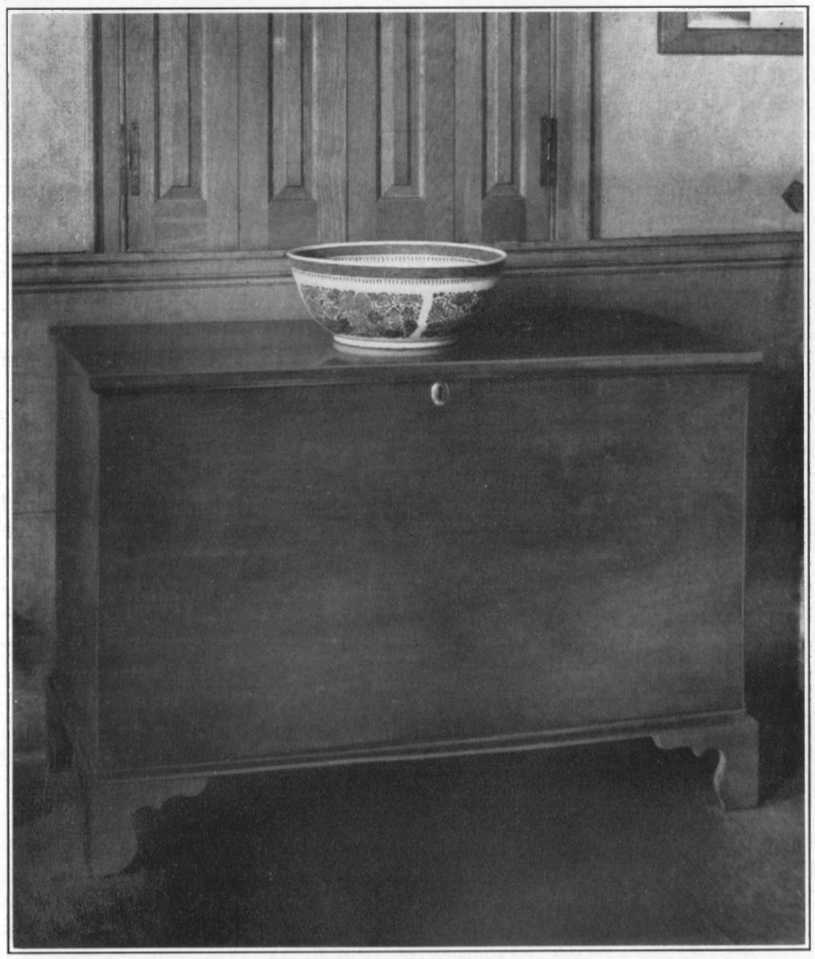 DOCUMENT-CHEST OF THE FIRST MAYOR
The author bought this chest from Peter Lux, a second-hand dealer, who had a store on Main Street, Hartford. The author has a letter, dated February 22, 1893, from Mr. Lux reading in part as follows: "I got it (the chest) personally from Governor Seymour's sister [Mary Ellery Seymour] and took it from the attic of Governor Seymour's house on Governor Street. I bought it at the same time I bought the papers1) and pistols and other things."
Governor Thomas Hart Seymour died in 1868. A few years later, his sister, Mary Ellery Seymour, removed to New Orleans to live with her brother, William E. Seymour. At this time the homestead was rented, and the First Mayor's clock was probably carried upstairs and laid on the garret floor, as elsewhere described. Apparently Miss Seymour returned to Hartford about 1885, and maybe at that time the magnificent malachite table presented to her brother by the Czar Nicholas of Russia was sold.
After Miss Seymour's death, the house was sold, April 19, 1888. Mr. Bates, the Librarian of the Connecticut Historical Society, says in his Introduction to Volume 9 of the Collections of the Society: "The heirs who had the disposition of the property first removed from the house everything that was considered as of personal interest or as having special value; the miscellaneous odds and ends remaining were sold to a local second-hand dealer. Among other things secured by this dealer was a large and miscellaneous assortment of ancient manuscripts gathered by him, it is said, partly from old trunks in the garret and partly from an old desk and some boxes stored in an outbuilding."
This collection of papers was the greatest treasure trove of ancient manuscripts in Hartford annals. Despite the volume of papers in this collection, their whereabouts are not known except for the two hundred thirty- five original Muster and Pay Rolls of Connecticut men serving in the French and Indian War, 1755-1762. The author well remembers the current gossip about these papers, their value, and their mysterious sale to collectors of autographed material, but no one has told that story and it may be that there is no one now living who can tell it. If these papers had not been looted and dissipated, it is probable that this History of the Seymour Family, particularly as it relates to the First Mayor and to his father, might have been altogether more comprehensive. The chest in question was filled with a portion of these papers at the time Peter Lux found it in the attic of the Seymour homestead and transferred it to his shop, where it was bought by the author, empty except for a few unimportant documents. The author had it dressed over and sent it to Bristol, where he used it as a document chest until 1922, when his father's house was dismantled, and it was transferred to the judgment hall of the Birth Place of Nathan Hale in South Coventry, where it now stands as shown in the cut. Though a plain chest, it is of superior workmanship, as one would expect from the First Mayor's "Mohogany Desk and Book Case" and his clock. Today it serves as a reminder of the untoward dissipation of the extensive ancient manuscripts once contained in it. The Muster Rolls, among them, were edited by Mr. Bates in Volumes 9 and 10 of the Collections of the Connecticut Historical Society, and reference is here made to the Introduction in each of these volumes for further information regarding those lost Seymour papers. But for Judge Adams, those precious Muster Rolls might not have been recovered, and but for Mr. Bates, they would not have been so wonderfully transcribed and recorded for the information of historians and antiquarians.

(<-- The First Mayor's Tall-case Clock) (Back to Start) (The Mayor's Staff -->)