(<-- Captain Thomas Youngs Seymour (1757-1811)) (Back to Start) (Captain John Chenevard, Jr. (1770-1808) -->)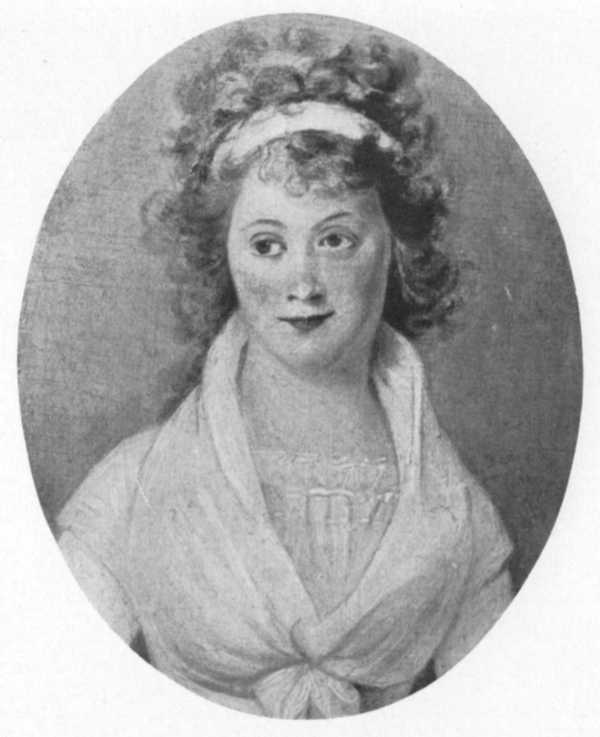 MARY JULIANA SEYMOUR (1769-1843)
Daughter of Thomas Seymour, First Mayor of Hartford, and Mary Ledyard, his wife. Painted at Lebanon, Conn., in 1792 by Col. John Trumbull; original picture in Yale Gallery of Fine Arts. Painted on ivory against a delicate background of jade green, her oval face and delicate features are set off by a mass of fair hair loosely confined by a bandeau of blue ribbon. Her eyes are blue and there is a bit of color in her cheeks and a bewitching archness in her expression. She was made the subject of the sketch entitled "Juliana, A Real Character," by Noah Webster (1756-1843), Yale Coll. 1778. (This sketch is reprinted in full on pages 162-164 of this book.)
She had the great fortune (rare among famous beauties) to retain her good looks as long as she lived. More even than for uncommon personal beauty, she was known throughout her life for her high breeding, for her rare beauty of character, and exceptional distinction of carriage.
She married, 20 May 1794, Captain John Chenevard, Jr. (1770-1808), whose portrait is also reproduced herein, and whom she long survived.
The miniatures by Trumbull of the beautiful Mary Juliana Seymour and her brother, Captain Thomas Youngs Seymour, are among the most admired of the large collection of miniatures by Trumbull in the Yale Gallery of Fine Arts.
When dining with Mrs. Roscoe Colliding (nee Julia C. Seymour), the author learned that the beauty of Mary Juliana Seymour was a cherished tradition in the family of Governor Seymour of New York.

(<-- Captain Thomas Youngs Seymour (1757-1811)) (Back to Start) (Captain John Chenevard, Jr. (1770-1808) -->)