(<-- The Old Seymour Homestead, Litchfield, from a daguerreotype) (Back to Start) (Nathan Perkins Seymour, LL.D. (1813-1891) -->)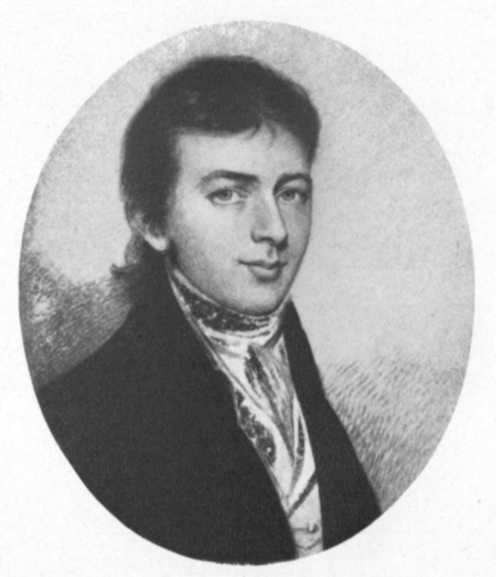 CHARLES SEYMOUR (1771-1852) OF HARTFORD, FROM A MINIATURE
From a miniature on ivory (artist unknown), painted shortly before his marriage as the author was informed by his youngest daughter, Miss Emily Seymour of Hartford. The miniature is at present in the custody of Charles Seymour's great- granddaughter, Mrs. Caroline Day (Bissell) Garmany.
A prominent merchant; treasurer of the First Ecclesiastical Society; vice- president of the oldest Savings Bank of Hartford; director of the American Asylum for Deaf Mutes for thirty years.
His wife, born Catherine Perkins, was daughter of Rev. Nathan Perkins (Coll. of N.J., 1770), D.D., for sixty-five years pastor of the Church of Christ in West Hartford; granddaughter of Rev. Timothy Pitkin (Yale Coll., 1747), of Farmington, Conn, (a son of Gov. William Pitkin) and of Temperance (Clap) Pitkin, daughter of Thomas Clap (1703-1767, Harvard Coll. 1722), President of Yale College.
Great-grandfather of Charles Seymour, President of Yale University.

(<-- The Old Seymour Homestead, Litchfield, from a daguerreotype) (Back to Start) (Nathan Perkins Seymour, LL.D. (1813-1891) -->)