Note: This information was supplied by Paul Carleton Seymour.
GILBERT9 SEYMOUR (Willet8, William Jr.7, William6, Samuel5, Samuel4, Matthew3, Thomas2, Richard1), born 1839 in Thompkins, Delaware, NY, died 1896 in Thompkins, Delaware, NY. Married Amanda (1841-1931 b: New Jersey).
Children (born in Thompkins, Delaware, NY):
Durwood
1863
R. Helena
1865
D. Mary
1868
W. Stanford
1870
H. Clinton
1872
Gilbert Seymour (1839-1896) and Amanda Seymour (1841-1931)
The following information comes from the book 'Holt! T'Other Way' by L. C. Wood. GG Grandpa Gilbert Seymour is mentioned on page 222 in a section about Cannonsville. That section says:
"Quite a bit of lumbering was done from this locality. At Cannonsville was the Gillete mill, the Huntington mill below the village, 21/2 miles farther down was the old Kelseymill, and just below this mill was the "Fletch" Palmer mill. Steersmen were: James Ostrom, James Lovelace, John Sprague, Sherman Sutton, Israel Gillette, Henry and Steve Durfee, "Shep" Smith, James Hunt, Johannas Frazier, of Kelsey, and John B. Kelsey. Caleb "Cal" Kelsey was a steersman from Cannonsville who lived to the age of 104 years. He rafted quite a bit on this section of the West Branch and in his younger days walked home from trips down the river. "Squire" used a willow cane one year to help him along on his long trek to the headwaters of the noted rafting stream, and, after reaching home, stuck the willow cane into the ground along the river on his farm. The cane took root, grew into a struggling bush and finally spread out into a beautiful will tree. Thirty years ago this tree was felled, it having grown to a diameter of seven feet, and 18 cords of two-foot wood were cut from its trunk and branches. Alfred Beers was another of the older steersmen from Cannonsville, as were Jacob Hathaway and his son Samuel A.
William Seymour was one of the pioneer lumbermen in this vicinity and one of his sons, Willett, followed in his father's footsteps. Two of Willet's sons, Ezekiel and Gilbert Seymour were steersmen. Willet Seymour's eldest son, Alonzo, went in business with him and the two rafted many thousands of feet of timber down the river."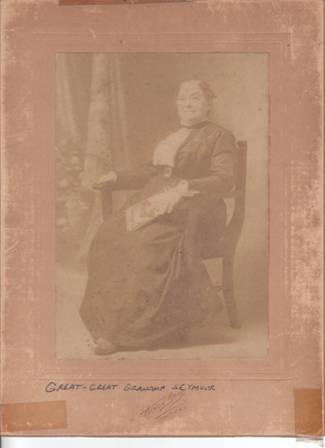 Here's a photo of Gilbert's wife, my great-great grandma Amanda Seymour, who was born in New Jersey, but I don't know her maiden name. I learned of Gilbert and Amanda via the Tompkins, NY 1880 census. On which we see that Gilbert listed himself as a farmer, but we know from the book excerpt that he also was at least a part time lumberman as well. You can also see that Clinton's older brother, although 17, was listed as a full time farmer too. It's also interesting to see a couple of families had recently arrived from England.