Note: This information was supplied by Paul Carleton Seymour.
WILLET8 SEYMOUR (William Jr.7 William6, Samuel5, Samuel4, Matthew3, Thomas2, Richard1), born 1805 in Tompkins, Delaware, NY, died 1897 in Tompkins, Delaware, NY. Married Mary Goodrich (b. 1814 in Sidney, Delaware, NY; grandaughter of Zenas Goodrich, a Revolutionary soldier1) and founder of Sidney, New York).
Children (born in Tompkins, Delaware, NY):
Lewis
died infancy
Amanda
Alonzo
1836
Gilbert
1839-1896
George Washington
Charles
Erastus
Willet, Jr.
Florence
Rector
http://www.dcnyhistory.org/seymour Also from the Delaware County NY historical website, more information about William's descendents, and our ancestors.
"Willet Seymour (1805-1897) was born on the old farm in the Town of Tompkins on May 6, 1805, and lived his long life of 92 years on that farm, never having any other home. On William Jr's death, Willet became possessor of the old homestead and continued the occupations of his father, lumbering and farming. Later on, he started, and for several years ran a grocery store in Cannonsville. In 1830, he married his first cousin, Mary Goodrich, daughter of Allen and Elizabeth (Lord) Goodrich, born in Sidney in 1814. They had 10 children: Lewis, who died in infancy, Amanda, Alonzo, Gilbert (my GG Grandfather), George Washington, Charles, Erastus, Willet, Jr., Florence and Rector. Mary Goodrich's grandfather, Zenas Goodrich was a Revolutionary soldier and a pioneer of Sidney."
I did some research into Zenas Goodrich, but it's sufficient to say that he's another member of our family who fought in the Revolutionary War (Proof document–Rev War Pension File R1780, CT Line)., and another founder of yet another American town, this time the one where both my sister and I, and both of our parents were born. Also where my Great Grandparents, Henry Clinton Seymour, and Carrie Cuyle Seymour are buried, after my Grandfather, Westley C. Seymour moved them both there just prior to the destruction and flooding of Cannonsville. Westley C. Seymour, and my Grandmother Leone Dann Seymour, are also buried there, at Prospect Hill.
A postcard of Uptown Sidney in the 1950's: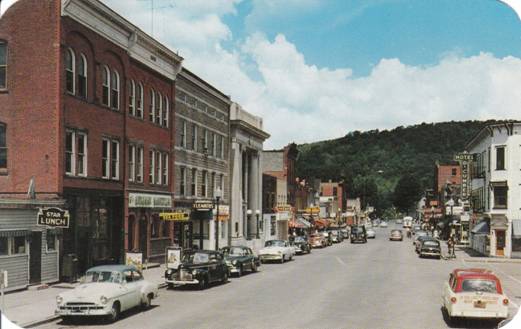 The last time I was there in 1999, it looked remarkably the same aside from the cars, of course. There was a disastrous flood in 2006 and as of 2010, it looks like the town is dying somewhat, since the factories that fuelled the local economy have mostly closed down. My grandmother, Leone Dann Seymour, worked at the Hotel Decumber (the black sign in the picture on the right hand side) in the late 1930's as a young divorcee raising my Uncle Richard Curtis before meeting my grandfather. In 1999, it was still there.
Another article on Willet Seymour, a son of William and Dorothy Seymour, and the father of the subject of this sketch, was born on the old farm in Tompkins, May 6, 1805, and was reared to agricultural and lumbering pursuits, in which he was employed throughout his life. On the death of his father he became the possessor of the old homestead; and here he still resides in his ninetieth year, retaining to a remarkable degree all his faculties. His wife was Mary Goodrich, to whom he was married July 28, 1830. She was born in Sidney, N.Y., September 1, 1814. Her grandfather, Zenas Goodrich, who was a Revolutionary soldier and a pioneer of Sidney, married Mercy Lawrence. Allen Goodrich, the father of Mrs. Willet Seymour, married Miss Elizabeth Lord, a daughter of Eliphalet and Mary (Green) Lord. Willet and Mary died on the same day, March 30, 1897.
Nine of the ten children born to Mr. and Mrs. Willet Seymour lived to reach maturity namely Amanda, Alonzo, Gilbert, Charles, Erastus E., Willet. Florence, and Rector, Lewis dying in infancy, and Washington dying at the age of forty-eight years. Mrs. Seymour was a thrifty housewife, and before her marriage had learned, besides the necessary household accomplishments, the art of weaving, carding, and spinning, so that in her early, married life she dressed her children in the homespun which she made entirely with her own hands.
I had to look up carding, as I'd never heard of it before: Carding "Carding is a mechanical process that breaks up locks and unorganized clumps of fibre and then aligns the individual fibres so that they are more or less parallel with each other. The word is derived from the Latin carduus meaning teasle, as dried vegetable teasles were first use to comb the raw wool. These ordered fibres can then be passed on to other processes that are specific to the desired end use of the fibre: batting, felt, woollen or worsted yarn, etc. Carding can also be used to create blends of different fibres or different colors. When blending, the carding process combines the different fibres into a homogeneous mix. Commercial cards also have rollers and systems designed to remove some vegetable matter contaminants from the wool."
Following are three different stories on Alonzo Seymour, who was Willet's oldest son, and who became a big rough lumber dealer in Philadelphia. There's some overlap, but each story has some unique facts, so I included them all. Our Gilbert, his younger brother, seemed to do more farming than lumbering, but was also involved at least part time in lumbering with Alonzo.
Continuing with Don's story-"Alonzo Seymour, (Gilbert's older brother, Don's great grandfather and my great-great uncle), was born at the old homestead in 1836 where he lived with his parents until he was 24 years old, working for and with his father at the business of lumbering and farming, lumbering being the main business. He became very expert in every part of the business - from cutting and getting out the timber and manufacturing it into lumber, to rafting it down the Delaware River to Philadelphia and selling it. In later life he became one of the best salesmen and was one of the largest rough-lumber dealers in the city of Philadelphia. In about 1859, he went into partnership with his father, Willet, and bought 200 acres of land on Sands Creek on which there was a one and a half story log house with a small shed on the backside used for a woodshed and storeroom. There was also a good frame barn and a water-power sawmill, and another small board house called the millhouse. In 1860, he married Josephine Bradbury who was born in Sparta, NJ in 1838. Her father was John Bradbury, a minister, and Olive O. Terwilliger of Newburgh. Immediately after their marriage, Alonzo and Josephine moved into the log house on Sands Creek and proceeded to build a new house and raise a family. They had six childlren: Oakley Arlington, Irvin Winfield, Ziba Angle (Don's grandfather), June, John, Willet, and Kate. In addition, they adopted a daughter, Belle (Shackleton). "
ALONZO SEYMOUR, is (an old story as he's speaking of Alonzo in the present tense) a native resident of the town of Tompkins, which he represents as a member of the County Board of Supervisors. His great- grandfather, William Seymour, who, it is supposed, was of English birth (which we now know is inaccurate, but I wonder why they ever thought that? Maybe William Jr. had no contact with him, and maybe why stories weren't passed down very well from generation to generation), for many years was a prominent business man at Newburg, N.Y. He also built two Liverpool packets (according to the history of the town of Newburgh, he built 3), the "William Penn" and the "Ontario," the latter being a vessel of five hundred tons burthen, the largest packet at that time in the Liverpool trade. He was an extensive dealer in real estate, and did much for the improvement of the village, where he was a resident to the time of his death.
His wife (this must refer to Rhoda Chidsey, but there doesn't seem to be any record of their marriage, and Jr. was born while Sr. was married to Esther Sands. I suppose it would have been impolite in the 19th century to imply that a founding citizen, and respected businessman had been born to his fathers' girlfriend), accompanied by his son William, Jr., who was born in New Haven, Conn. (listed as Greenwich Ct. On other sites, but actually East Haven would make more sense, since it's Rhoda's hometown, and she was quite young), moved then to Delaware County, where they were among the first settlers. This son purchased a tract of heavily timbered land on the south side of the west branch of the Delaware River, which included the land now owned by the subject of this sketch. In these early days no railroads or canals shortened the distances between towns and villages, and the isolated pioneers subsisted chiefly on the products of their own land and the deer and fish which were then abundant in the surrounding country. William Seymour, Jr., (then about 16 years old) commenced at once on his removal to his new home to clear his land and take his lumber by-means of rafts down the river to Philadelphia, returning over the long route on foot. December 16, 1803, he married Dorothy Lord, daughter of Eliphalet and Mary (Green) Lord. She was born August, 28, 1788, and died January 28, 1866, the mother of ten children, having lived to see the wilderness about her home transformed into the seat of a prosperous, wealthy community.
"Alonzo Seymour was brought up to the lumber business, assisting his father in buying the standing lumber and rafting it down the river to Philadelphia. Upon reaching his majority he purchased a tract of land in the town of Tompkins, on which there was an improved water-power and saw-mill, and has been since that time continuously engaged in the manufacture and sale of lumber. He has also been greatly interested in farming, and in 1888 purchased the old homestead which he now occupies. In 1860 he married Miss Josephine Bradbury, who became the mother of six children: Oakley A.; Irvin W.; Ziba A.; John W.; June; and Kate, who died at the age of five years. And they have also an adopted child, Belle.
Politically, Mr. Seymour is a Republican, being a staunch supporter and active worker of that party, and has held many offices of trust and responsibility, among them being that of Supervisor, to which he was elected in 1893 and re-elected in 1894. He has also held positions on various committees, his long experience and natural business ability and well-known integrity making his co-operation doubly valuable. Mr. and Mrs. Seymour are both earnest, active members of the Baptist church, where they are universally esteemed."
The following are also from the Delaware County Historical website, but were written much earlier, evidently in the late 1800's or early 1900's based on the use of the present tense while discussing George who was born in 1848. http://www.dcnyhistory.org/books/brevie12.html
"GEORGE S. SEYMOUR (another gg uncle of mine as another grandson of William, Jr.) is a successful farmer in the town of Tompkins, N.Y., where he was born October 7, 1848. His grandfather was William Seymour, who is further mentioned in the biography of Alonzo Seymour elsewhere in this volume. Charles D. Seymour, the father of George, was born in Tompkins, April 26, 1823, and was brought up a farmer. He married Phoebe Walker, daughter of John and Betsey Walker, residents of that part of Tompkins now known as Deposit. George S. Seymour in his childhood was educated at the district school, and worked on his father's farm, a part of which he purchased from his father in 1880. On January 19, 1881, he married M. Eliza McDonald, daughter of D. G. and Jane (Chambers) McDonald, of Walton. Mrs. Seymour's paternal grandfather, Archibald McDonald, came to America from Scotland, and settled in North Carolina, where he remained for thirteen years, and then came-to; Delaware County, New York. He married Jennette Smith, daughter of John Smith, of Walton. Their son, D. G. McDonald, was born in North Carolina, and, when thirteen years of age, removed with his parents to New York, where he was engaged in the lumber business and agricultural pursuits. D.G. McDonald married Jane Chambers, who became the mother of eight children, namely: Maria; Eliza, the wife of the subject of this sketch; John; Archibald; Jennette; Jane and David, who were twins; and Sloane. The family are Reformed Presbyterians, and still reside on the old homestead. Mr. McDonald is a Republican in politics.
Mrs. Seymour resided with her parents in Walton, teaching school in various towns of Delaware County for five years. She is the mother of two children - - David N. and Ethel N.; and both she and her husband are members of the Presbyterian church. Politically, Mr. Seymour is a Republican, being a firm supporter of the platform of that party; and his position as a man of unquestionable integrity is manifested by the respect with which he is regarded by all who know him.
I find it interesting that both the religious and political affiliations are stressed in the biographies. Also note that both were described as being of the highest integrity, which is a trait that the Seymours have been well known for, for many generations before and afterward, up to and including, I hope, yours truly. Although my ex-wife would probably disagree, I believe that others who know me would be in agreement.
The following article was written by my GG Uncle Oakley Arlington Seymour ca. 1934. Note the rather high quality English for a guy in the Depression in the middle of nowhere upstate NY. Also imagine yourself floating down the river through the wilderness, and arriving in the big city several days later. It must have been a nice break from the chopping and sawing and loading, and I can only imagine what kind of time these guys had in Philly with their pockets full of cash…..:
RAFTING IN THE CANNONSVILLE SECTION
"I think that the first rafting that was done on this branch of the Delaware was not later than the year 1810, as my great-grandfather, William Seymour, had been here since the year 1800, and was one of the pioneer lumbermen of the (west) branch. I do not know, nor do I know of any way to find out, who ran the first raft (presumably of pine or hemlock logs) out of the branch. William Seymour's son, Willet, was a lumberman all his life, having a water power sawmill here at Cannonsville, and having one-half interest in another one with Alonzo Seymour on Sands Creek. Willet did his rafting here at Cannonsville but he and Alonzo rafted the product of the Sands Creek mill at Hancock, but on this same branch of the Delaware. Between the two of them they probably rafted several million feet of sawed lumber from these two places, the most of it being hemlock.
There were several other quite extensive lumbermen in the vicinity of Cannonsville, among them Wilson Owens and his sons, Lewis and James; Nathan Boyd and Sherman, Jerry and John Gregory, who operated at what was called in those days, Carpenter's Eddy, but is now known as Granton. There was also a family of Grants who lived at that place who were quite extensive lumbermen. Also a father, brother and son by the names of Francis, Aarad and Clark Frazier, who lumbered practically all their lives. They were also known as "branch steersmen," as they used to steer down this branch as far as Hancock, but no farther. In fact, there were very few men in these parts but what did more or less lumbering, as it was generally a means of procuring a little ready cash at least once a year.
On Sands Creek, where I was born and raised, there were nine sawmills, run by waterpower. All of them were up-and-down mills except one that was originally of that class and later built over with a circular saw. These mills all shipped their products, mostly Hemlock, by way of the West Branch, to the Philadelphia market.
Sands Creek, a tributary of the West Branch, was named for Samuel Sands, the owner of the largest mill on the creek, and one of the largest lumber dealers in that whole territory, rafting his lumber at Hancock, but I do not know whether he confined his rafting operations to the West Branch or whether he used both. The Crary Bros. also were quite big lumber dealers, and they, also, had a mill at this place. Alonzo Seymour was one of the largest lumbermen on the creek. I once heard him say that he figured that over a million feet of lumber had been manufactured in his one small mill on Sands Creek, and it was all rafted on the West Branch of the Delaware at Hancock, just below the suspension bridge which goes over the river into Pennsylvania. On the opposite side of the river from where he rafted I saw in one spring what they claimed was a million feet of hemlock logs which were rafted that spring.
I am not posted at all on lumbermen anywhere above Rock Rift, although I think that rafts have been run from as far up as Hamden, and possibly as far as Delhi. But if they were they would have to have been very small, especially in length. As near as I can remember, they used to be about 16 to 18 feet wide by 150 to 160 feet long. If a man had two of them, he would run them out of the branch single, and lash the two together when they reached the main river. It used to be quite an event for the boys here in the village to go down the branch to Hancock and then walk back 11 miles by way of Sands Creek.
Another creek which contributed considerable traffic to the West Branch was 'Roods Creek,' several miles below Deposit, also another creek, whose name I do not recall, which came into the West Branch from the Pennsylvania side at Hales Eddy. I call to mind Begeal, Travis and Gardinier as quite prominent lumbermen in that territory.
The main timber rafted from this section was hemlock, mostly sawed into scantling or joists, 3 inches thick, from 4 to 12 inches wide, and from 12 to 24 feet long. However, there was very little of the latter length. In the later years of rafting considerable maple was cut and rafted to the Philadelphia market. Raftsmen would put in a hemlock bottom and load the maple on it. The maple was usually sawed into 2 inch planks. If there were more than 60 or 70 thousand feet, it was usually made into two rafts. I have heard of two hemlock rafts that counted out 180 thousand feet in Philadelphia. Rafts from here were built from 16 to 20 feet wide; from 160 to 180 feet long, and had from two to five oars, according to the size of the raft and the amount of water they would draw. I have heard of their drawing a high as 33 inches of water. They used from 2 to 5 hands, according to the size of the raft and whether it was double or single. I have heard of one man running a light raft, which they called a "colt," clear through to Trenton alone. I went down once, there being four of us on the raft, and we had a very pleasant trip, reaching Trenton in four days.
Some other names involved with rafting on the Delaware are: Daniel Skinner, "Admiral of the Delaware," said to be the first man to raft logs down the Delaware; Josiah Parks; Peter Swartwood Barnes; Oliver Tyler; George C. Abraham; John B. Conklin; Elias Mitchell; Nathan Calkin; Benjamin; Daniel and Stiles Chamberlain; Lyman Palmer; Daniel Alverson; A.J. Andrews; John and Martin Love; George Grant; Jeremiah and Sherman Gregory; Huntington; James Ostrom; James Lovelace; John Sprague; Sherman Sutton; Israel Gillette; Henry and Steve Durfee; "Shep" Smith; James Hunt; Johannas Frazier; John B. Kelsey; Caleb Kelsey; Alfred Beers; Jacob and Samuel A. Hathaway; Nathan Dean; George L. Rood; Benaih G. Jayne; D.W., S.F. and J.O. Whitaker; David Lord; J. Harrington Smith; Milton Whitaker; Stiles; Bridges; Barmer Hadley; Henry Evans; George Peters; John M. Briggs, Sr.; George W. Briggs; Fletcher Palmer; Palmer Boroughs; G. Halsey Bielby; Benjamin S. Boroughs; G. Mott Briggs; Albert Boroughs; Edgar Webb; Moses Cole; George Huyck; Alexander; David Lord; Bonnefond; Joshua Pine; MacLean; Weed; Ogden; Abraham and Judge Isaac; Thomas and Jared Marvin; Isaac and William Townsend; Beers; Stockton; Bennett Beardsley; Jeter Gardner; A.N. Wheeler; M. Case; Sylvester Brisack; Joseph Combs; N.C. Thomas; George Marvin; John Launt; Ira Peake; Joseph and J.B. Yentes; Eli and Alfred Gould; Hull and George Bradley; Nichols; Wakeman; Graham; Cables; Buckbee; William Boucher; Elias Mitchell; Leander S. Conklin; Boney Quillen."