Note: This information was supplied by Paul Carleton Seymour.
WESTLEY FRANCIS11 SEYMOUR (Westley Carleton11, Clinton Henry10, Gilbert9, Willet8, William Jr.7, William6, Samuel5, Samuel4, Matthew3, Thomas2, Richard1), born 1944 in Sidney, Delaware, NY, died 2005 in Kings Bay, Georgia. Married Sandra Greene, daughter of William Paul Greene and Florence Bowermaster.
Children (born in Sidney, Delaware, NY):
Paul Carleton
b. 1963 – Supplied the information on this page (and several generations back)
Tammy Sue
b. 1964
Note: The following article was written by Paul Carleton Seymour.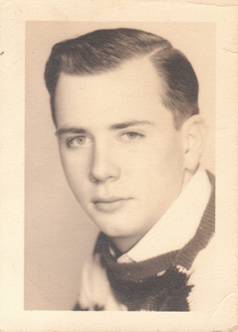 Dad at 17, looking a little like James Dean
Dad……. Dad was, as I've also been described as ever so often, an enigma. I'll start by characterizing him by his most basic traits. He was a smart guy. He missed the National Merit Scholarship by half a point. He was way too humble to ever mention it, and never did, to anyone, but I learned about it from Grandma. Not too shabby, is a phrase he used to use from time to time. I concur for a small town boy competing with all the big city kids down in "The City" as we all called New York City back in little ol' Sidney. The proof follows: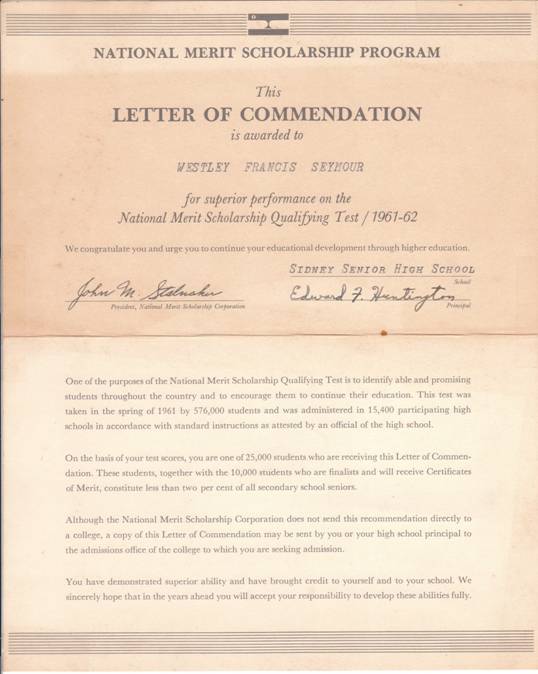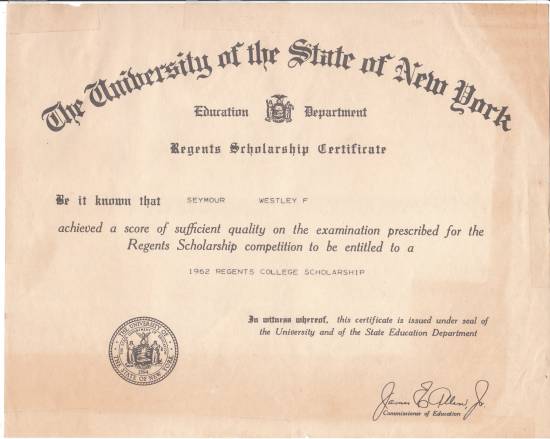 As he barely missed the National award, he was thus awarded the New York State equivalent, which offered him a full ride at any school in the State. He was also recruited by Northwestern in Chicago due to his football skills combined with his academic performance.
But Dad was a small town boy, as at heart, so am I. Therefore, although NY is home to 3 Ivy League schools, Columbia, Cornell, and Colgate, of which Cornell and Colgate are both close to home in Sidney, he chose the University of Buffalo. That was because his big brother, Dick Curtis, was there working as a coach in a prestigious private high school, Williamsville South, where he continued for his career, becoming athletic director. There, although away from home, he would have some family nearby.
Dad started to major in engineering, but dropped out after a year or two, because he suddenly became a father to yours truly in March of '63, and in the spirit of the 1950-60's America, he felt that he needed to go to work and support his family, although Grandma was way more than willing to have us at 41 Bridge. A telling story that Dad told me about his time at UB, was that he was inducted as a member of the Jewish fraternity. As I've pointed out in other places, both Dad and I, are completely non-religious. He was no more Jewish than the King of Saudi Arabia. They were just the guys that he got along with, and therefore wanted him in their fraternity. The point of this little anecdote is to show how open-minded Dad was. This is a trait that came down to him through the centuries, I think, and has been continued with me, and hopefully has found its way to you. Recall Edward the Protector's (and his friend King Henry's) distaste for the corrupt Papacy, and his efforts to create a more just Church in England?
As for me, it's carried on. I've lived in the heart of Islam (Saudi Arabia), and Buddhism (Thailand), as well as Christianity, both Protestant (New England), and Catholic (Colombia) and find them all similar. Can everybody else be wrong? More likely, they all are. I personally find myself equally at home with Muslims, Jews, Buddhists, Hindus, and Christians, all of whom I've lived with day to day at one point in my life. I learned at an early age, thanks to my Dad, that we're all basically the same at heart. We'd like to be able to live peacefully, and raise our families, and love and play as we please. The particular book that you choose to find meaning in, be it the Bible, Koran, or whatever, really doesn't, in the end, matter that much.
Also, I mentioned before that Grandpa was a big naturalist, and this was passed on as well through Dad. We visited the best zoos on the East Coast during our vacations. The Philadelphia and Washington zoos being the most famous ones, but by no means the only ones.
I'd be remiss if I didn't mention that Dad was a great football player too, which is part of the reason he was recruited by Northwestern. As is today, finding a good, tough ball player, who also scores in the top 2% on the Regent's exams, is a hard combination to find. In his senior year he played both ways, at fullback, and linebacker, for a Sidney High School team that went UNDEFEATED. I don't care what league you play in. When you go undefeated, you were a bad ass bunch of proud s.o.b's….
Dad had some really great traits, others of which I've also shared in other parts of this little documentary. He took very good care of me, and was always there when I needed him most. His loyalty, integrity, and honesty were always unquestioned by EVERYONE who knew him. He was, and remains, the most honest and honorable man that I've ever known. Again, as I keep learning through this research, apart from a very few notable exceptions, this is a constant Seymour trait of which I'm very proud of, and try to carry on. Successfully, I'll dare say. Here's a family portrait from about 1966. Vietnam War warming up, and Mom and Dad doing what they had to so they could take care of the family, which they always did, without fail, and Mom making sure that we were a solid family unit, like arranging this portrait and passing it on….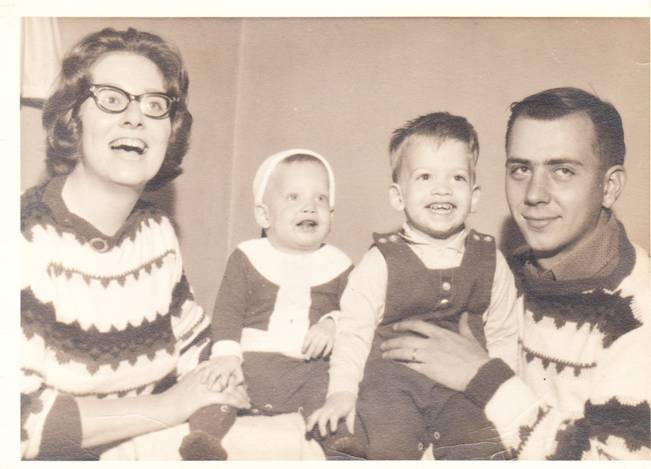 Another little anecdote–As I noted earlier Dad dropped out of college to take care of us. This was a major source of disappointment to Grandma, who had dreamed of a better future for her son. Because of this turn of events, Grandma taught me how to cook as a young lad of 9 or so, fearing that I might get married at an early age for the lack of a meal, which still cracks me up to this day. She also told me as an adolescent that she would gladly pay for a discreet service for any young lady which I might have the misfortune of knocking-up should it ever be necessary. What a great lady.
Below, a portrait of Paul and Tammy in about 1968. Is that really me?? I wish I actually grew up to be that good-looking. Here I had dark green eyes, while Tammy's are bright blue. It's funny how eye color changes over the years: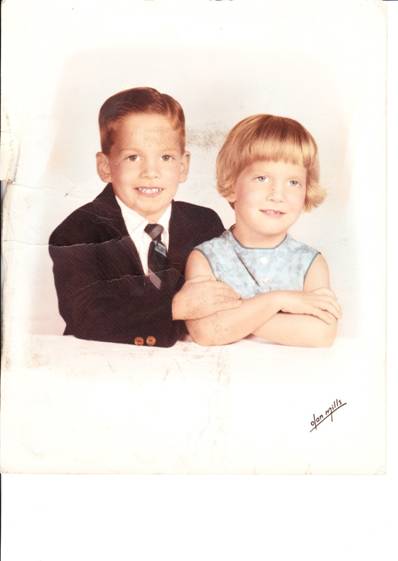 Now on with the Sidney/Binghamton, NY phase of this little branch of the Seymours. Anyway, after making the hard choice to do what needed to be done, Dad then became a union apprentice welder. With an IQ of 130 or so…it went about as you might expect. He spent a couple of years as a union sheet metal tradesman, in which he did very well. For example, he became a specialist in arc welding sheet metal, which as I understand, isn't something that just any guy can do. After getting predictably bored with this, he then became a more white-collared guy in the heating and air conditioning business (HVAC). This he did as a sort of para-professional engineer, as he obviously had the intelligence and aptitude, but lacked the PE qualification for reasons noted above.
Over the years he became a specialist in designing heating and air conditioning systems for new commercial construction projects. He would first design, and then estimate the cost of, HVAC systems based on the building blueprints, bid the price, and if low bidder, would then manage the installation project with the goal of doing it at the profit he had estimated. Fairly high stress occupation, I would guess, and he routinely suffered from gastric ulcers. I would also guess that at his rate of pay for all of this, which was relatively meager, he was a key asset to those companies for which he toiled.
Here's a portrait of Sandy in about 1960:
: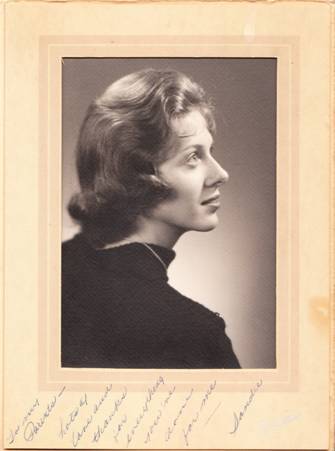 Mom was a gregarious lady. She was also big and strong, affectionate, and above all, selfless. I can tell one short story which will illustrate a few of these qualities. Her "little" brother, Bill, goes about 6'3" 240 lbs. Mom, whenever she would see him, including in her 40's, used to like to bear hug, and pick him up well off his feet. Hell, I'm not even sure I could have done that at 25, and I go 6'1" 190.
When we were young, Mom and Dad were corner workers with the SCCA, which was the organization that ran all racing events at Watkins Glen back in those days. It was unpaid, and more of a social event than anything. We spent dozens of weekends camping in the infield of the track with the rest of the corner workers. These were great times for me as a small boy. I walked around that track, including the pits, like I owned the place. Keep in mind that in the late 60's and early 70's events like the Can Am, Trans Am, 6 hours, and the granddaddy of them all, Formula One, were all held there. To this day I have an autograph book with names like Mark Donahue, Jackie Stewart, Mario Andretti, Ronnie Peterson, Jacky Ickx, and on and on, and on. Going around there, seeing all the beautiful people driving Lotus', Panteras, Ferraris, etc., plus the guys with long hair and their beautiful exotic girlfriends, speaking French, Italian, Portuguese, etc. filled me with the desire to see other places.
Once, after the 1972 6-hour race (prototypes were always my favorite cars, with the best being the Porsche 917)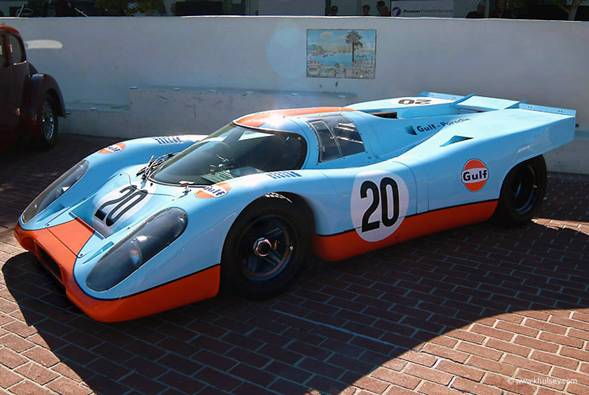 Isn't that a beauty? A total monster too. There'll never be another like it. It was driven by some of the best race car drivers in history, and some of them admitted to being scared by it.
Okay, back to the Glen…I went into the paddock area where the winners, Mario Andretti, and Jackie Ickx, were sitting next to their winning Ferrari jabbering. The car was roped off, and people were standing 6-7 deep around. I was about 8, and snuck up to the rope under the elbows of the others. I stood there looking at these guys with my autograph book open, contemplating how much trouble I would get into if I ducked under the rope and went over to them. Just then, one of the drivers' girlfriends saw me, and I gave her my best puppy dog eyes. She smiled and lifted the rope up for me to go under. Even at eight I could see that she was a sexy girl, and the guys next to me were grumbling and whining, "why does he get to go through" I was loving it as I walked over to the drivers and they signed my book.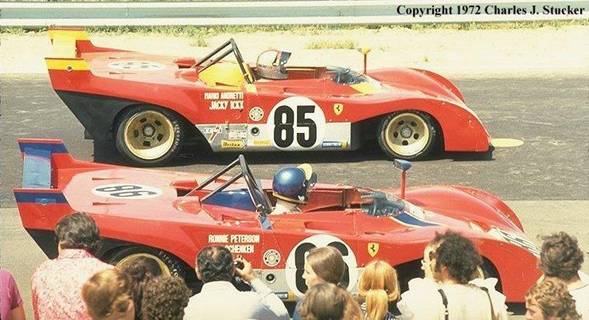 Anyway, back to Mom and Dad. Dad was one of the first stringers at the track. For all the big races he would be stationed at Turn 1, where most of the action happens. Although there were other women besides Mom who also worked the races, they weren't allowed to work the F1 race. Our last year there, Mom asked for, and was granted, the right to work, even if on the back straight were not much happens, the F1 race won by Ronnie Petersen that year. It was also the year that Francois Cevert, Jackie Stewart's teammate, was killed in practice. Mom flagging the race was a big deal. She was definitely the first woman corner worker at an F1 race in America, and very likely, the entire world.
Below is a series of photos that someone caught at an amateur regional event at Watkins Glen in 1970. Skip and Sandie are in the matching white pants and black jackets (Mom in her Gilligan hat), running away while an old H Production bug-eye Sprite makes a surprise visit to the corner worker's station: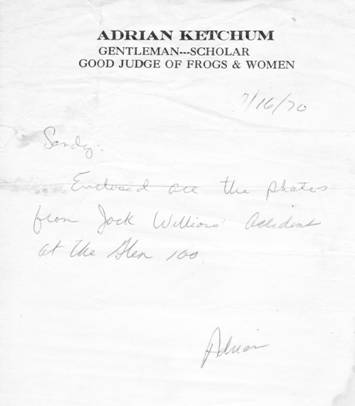 This cracks me up. Adrian obviously had a sense of humor. Back in 1970 it was allowed. By the mid 80's being a good judge of frogs and women would be considered politically incorrect, and in bad taste. Adrian would be shunned for having such letterhead.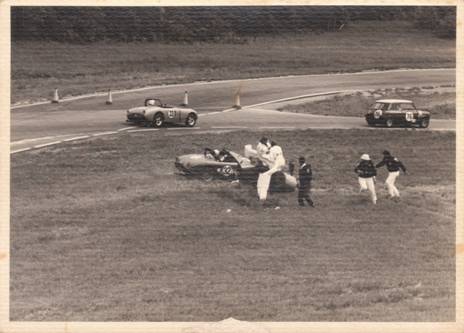 A big surprise for these 2 guys who were just having a nice chat at the track. Dad, here stepping aside along with Mom, while strongly suggesting that they might consider a quick change of location as well.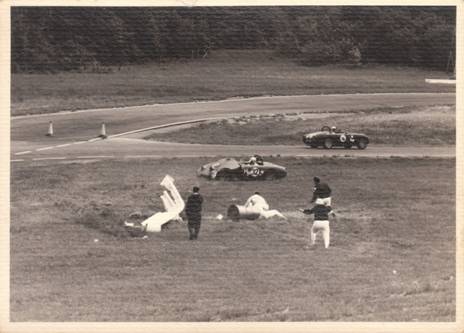 Skip and Sandie quickly on their way back to help.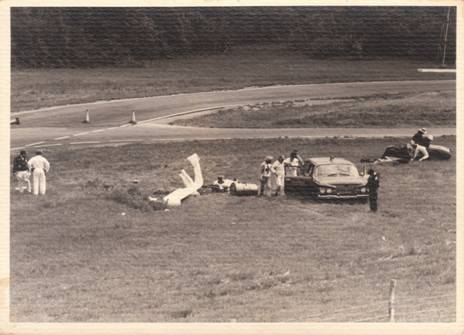 This one cracks me up. Over on the left you have Skip and some other guy already planning their big story for the after-hours beer party, while on the right are Sandie and the other guy's wife pushing the wrecked car out of the way.
As I said, Mom was completely selfless. A good example, on my sixteenth birthday, she gave me her car.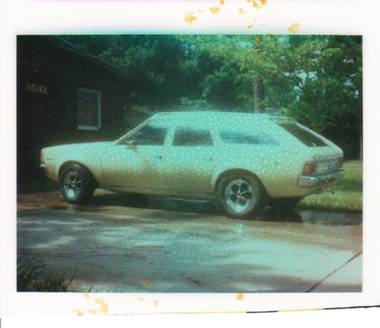 When Mom gave it to me, it didn't have the custom wheels or tinted windows. Dad got me a summer job at the company where he worked, and I worked as a helper's helper. I'm not kidding. You can't get any farther down the totem pole than that. I got the $2.65 per hour minimum wage, and 40 hours a week for the whole summer. At nights, Mom also got me a part time job as a janitor at our dogs' veterinary clinic, where I cleaned out every animal's cage and swept and mopped the floors and took out the garbage. So I was putting in about 50-55 hours a week at age 16, which is when I started paying my share of taxes too.
Why? You ask. Well, because about 2 weeks after my 16th birthday, I took the car out with a couple of friends to an isolated dirt road near the St. Johns River where the track was wet and slippery after some heavy rains. I was sliding that baby around and we were having a good time. I know it's just a station wagon, but it did have a 304 (5 liter) V-8, and I had the speedometer reading about 50 while the car was only moving about 10 with the wheels spinning like crazy. Until…..I hit a dry patch and caught traction. That threw me sideways into the brush where a wheel dug into the sand and it rolled over. Just a slow, lazy half roll and we ended up on the roof. As we were now lying on the ceiling, we crawled out through the broken windows. Then reality set in, and I had to decide the next move. I went in to a bit of a panic trying to figure out the phone call home…..I suggested to my two friends that they might want to walk home, while I walked to the nearest pay phone. To my great surprise, and relief, Mom and Dad weren't angry with me at all. They quickly got there, took a look at the upside down car, and gave me a big hug and said they were glad I was ok.
Whew!, but with that out of the way, I quickly started to feel sorry for myself since I was back to a carless status. Therefore the summer jobs. A phone call back to Sidney got the cash for the initial body work from Gramma & Gramps, but it was truly ugly. They just jacked out the roof, and applied primer. So each week the meager pay checks went for a different upgrade. Paint job, wheels, tinted glass, new upholstery, carpet, and finally an ear blowing stereo. It was a tough summer, but like most memories, the toughest times turn out to be the best memories in the long run.
Although I was hugely grateful to Mom, I don't remember thanking her enough for that. She never had another car the rest of her life. At this time we were living in Jacksonville, Florida, and after that she took the bus downtown and back to the suburb of Arlington every day.
She was always a bookkeeper, and always worked for multinational companies which affected my career choice later. While I was in college, she was working for Touche Ross which is now Deloitte & Touche. I guess I inherited her skills with numbers, and ended up majoring in accounting. I started off to be a lawyer, but after the first semester of working part time, and taking a full load of classes, I realized that I would never survive that kind of schedule for eight years, and to be a CPA was only five, and Mom assured me that they made a good living. So that's what I did.
On to a different subject, here's a photo of Tammy before junior prom at Ft. Caroline Junior High School in Jacksonville.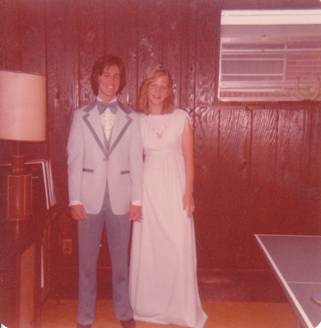 Here's a photo of Skip at a NASCAR race in Bristol Tennessee, about 1996. This was a great trip that we took together. Camping in the infield, like the old days at Watkins Glen. It also turned out to be a classic race, in which Dale Earnhardt, after hitting virtually everyone in the field during the night, then spun Terry Labonte coming off the final turn, who spun across the finish line ahead of Earnhardt for the win. Dad would talk about what a great time this was for years afterwards.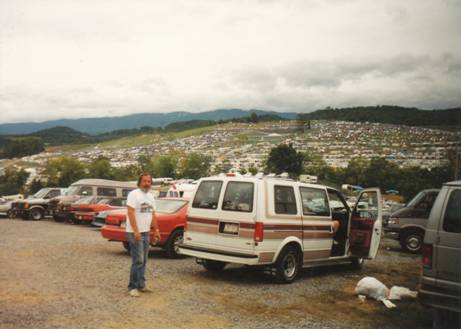 Below, a photo of William Paul, Florence Bowermaster, and Sandie Lee Greene in about 1945 shortly after Grandpa Greene returned from the Pacific.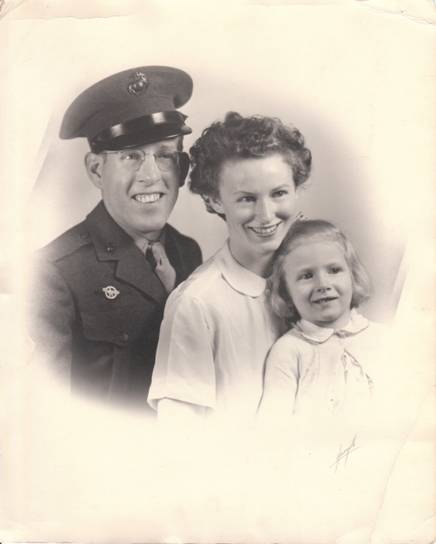 Note: I found out that the eagle pin is the "ruptured duck" that means he was honorably discharged, and therefore not AWOL, I suppose.
He was a marine and survived the landings, and subsequent battles of both Peleliu, and Okinawa. The battle for Okinawa is more well known, but Grandpa said that Peleliu was much worse. The battle of Peleliu, based on my research, isn't very well known, it appears due to a bit of a cover-up. According to the accounts that I've read, the capture of Peleliu wasn't strategically necessary. From a strictly strategic perspective it could have been bypassed and cut off. It was invaded and captured strictly due to a pissing contest between Generals McArthur and, I think, Nimitz for the rights to invade and recapture the Philippines. The casualty rates, especially amongst the marines who are the first ashore in a naval landing, were extremely high at both places.
http://www.militaryhistoryonline.com/wwii/peleliu/default.aspx "The American assault on Peleliu, in the Palau Islands, had the highest casualty rate of any amphibious invasion in terms of men and material in the entire war in the Pacific." There's the link above if you'd like to read more.
The odds of a marine surviving both were 50/50 at best. The carnage, again based on my research, was incredible. His marine (jar head) nickname was pretty funny-Willy P Greene. I'm not sure if this should be followed by a question mark, or not. Luckily for us, he was one tough sun of a gun, and like GG Grandpa Alvin Cuyle before, although we'll never know, it makes me wonder about the poor guys that fought against him. In the photo he just looks like any guy with his wife and kid, doesn't he? Glad to be home, I imagine….
Grandpa wouldn't talk about it at all. Like many veterans of war, I guess he was psychologically scarred by the experience. He did say that on one of the landings that he had at least two, and I think I heard three landing craft shot out from under him, and had to swim for another. Can you even begin to imagine the adrenaline that must have been flowing? A huge explosion, and shock wave, and suddenly you're gulping salt water, feeling around to see if you've lost any body parts. Wow….
In my foreign travels I've had, more than once, debated with people about whether or not it was morally correct to drop the two nuclear bombs on Hiroshima and Nagasaki. Never let anyone tell you it was wrong. There are many reasons why. First, let's remember that WWII was a just war on the part of America, unlike the many which have followed in my opinion. America was attacked by the Japanese, and had no choice but to defend itself. Second, you can bet any amount of money that if the Japanese had built a nuclear bomb first, LA or Washington would have been reduced to rubble, and we'd all be speaking Japanese today. Third, and possibly most relevant, it was estimated that about 1 million American soldiers would have been killed in an invasion of Japan, including probably Grandpa. Some of the idiots with whom I've debated the subject just shrug their shoulders at this piece of factual information. As if to express, "a million less Americans, that'd be a good start". What they don't bother to consider, in their haste to hate America, is that in the event that a million American soldiers were being killed, they would take 2-3 million Japanese with them. When you remind them of that, then they seem to care. Therefore 150,000 killed by the 2 bombs actually saved millions of lives. Hell, the Japanese refused to surrender after the first bomb, which indicates their mentality at the time. They fought to the death, and never surrendered, which is why the casualty estimates for an invasion were so high. Okay, back to more pleasant topics.
Grandpa very much enjoyed the outdoors, and traveling. He loved to camp, trout fish the streams of upstate New York, and hunt deer. I used to love the venison meat as a kid. After returning from the War, he also took Grandma on a cross country trip by motorcycle. It's comical to hear Grandma talk about it today.
He, like Grandpa Seymour, also worked a big part of his lifetime at Cintilla-Bendix, and on Saturdays delivered the mail for the post office. In later years he would become Postmaster at some small town, Sherburne, I think. Obviously a hard worker, and when he retired he would take his huge travel trailer down to Florida and spend the winters near Naples, Florida in a coastal campground, and the summers in a comfy but rustic cabin along a good trout fishing stream in rural upstate New York. He enjoyed the simple pleasures in life, like sitting around a campfire eating peanuts. I definitely caught some of those Greene genes, as I can completely understand that type of lifestyle.
As kids, me and Tammy would sometimes go camping with them. They were part of a camping club, Good Sam's, which would get together periodically at a nice State Park and camp as a group. This would usually include a pot luck supper. Grandpa would always throw together a casserole of baked beans, and I remember the other guys teasing him about it-"What kind of beans you bringing tonight Bill?"
Grandma was, and still is a quiet lady. Now into her nineties, she still sounds quite sharp when I talk to her on the phone up in Lake Placid. She's an extremely independent and adventurous lady too. In the fall of 2007, she and my Uncle Bill came down to visit me and Ana Maria in rural Colombia, and she stayed with us at the farm, and enjoyed herself, even dancing salsa, and drinking aguardiente with the locals. This while in her late eighties. She absolutely can't abide anyone telling her what to do, and that's a Bowermaster characteristic that I picked up. "I'd rather die on my feet than live on my knees". I heard that from a British guy that I was hanging around with in Koh Samui, Thailand, and it stuck with me. This trait, though, seems to be in all of the families that I come from. Seymour, Dann, Greene but maybe strongest in Bowermaster. I think it's just a matter of the pioneer blood that flows through our veins. To voluntarily get on a boat in the 1600's to go to a wild place like America in those days, obviously required a great sense of both independence and adventure, and a "Don't tread on me" kind of spirit.
Below is a photo of Grandma Bowermaster Greene at a much earlier age. I did some research on the name Bowermaster, and here's what I found: "The name Bowermaster is Anglo-Saxon in origin. It was a name given to a person who was the official bowerman, which means the servant who attended to the room of the bower. Until the dictionary, an invention of only the last few hundred years, the English language lacked any comprehensive system of spelling rules. Consequently, spelling variations in names are frequently found in early Anglo-Saxon and later Anglo-Norman documents. One person's name was often spelled several different ways over a lifetime. The recorded variations of Bowermaster include Bowerman, Bowreman and others. First found in Durham and Wiltshire, where they held a family seat from ancient times, long before the Norman Conquest in 1066." Wow, what a coincidence. The Bowermasters were big in Wilts before the Seymours got there. After the Normans, i. e. Seymours arrived, it was tough times for the Anglo-Saxons. Recall that the Anglo-Saxons were in charge of England for about 500 years after the Romans left and before the Normans arrived (Ch. 1). There seems to be some debate about this name as I also found this: "Americanized form of German Bauermeister, the standardized German form of Burmeister. Burmeister, North German: status name for the mayor or chief magistrate of a town." Either way it's Anglo-Saxon.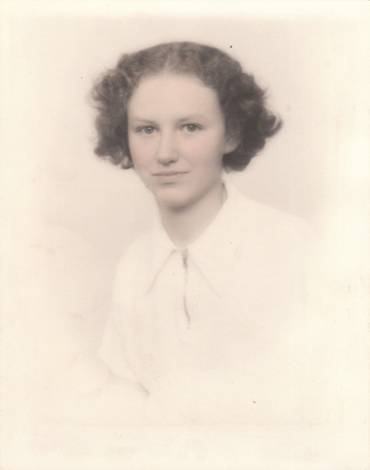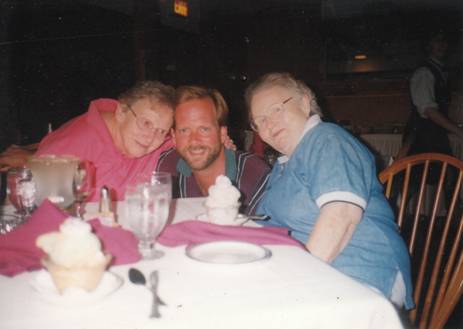 A picture of Paul with Grandma Greene (left), and her older sister Aunt Wanita on a trip up from Florida to Sidney during college, about 1986. Both are going today, in 2010 into their 90's.
Below a portrait of Great Grandpa David Bowermaster and G Grandma Laura Cutter Bowermaster: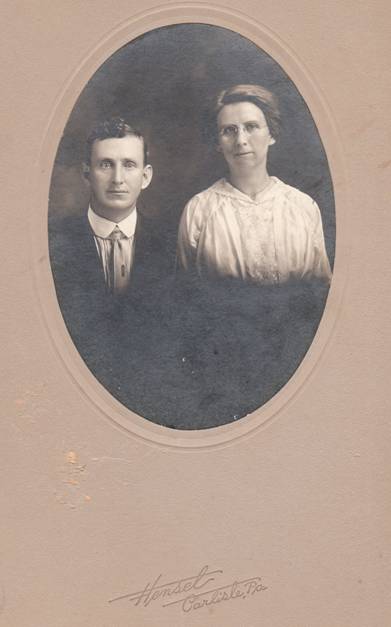 One thing I remember about Grandpa Dave is that he was absolutely huge. I think here that he's sitting and Laura is standing.
The Greene family runs a parallel Course to the Seymours, from the Norman invasion to the wacky days with the Tudors, to Sidney, New York
I at first started to summarize the Greene family history from the book THE GREENE FAMILY AND ITS BRANCHES, by Lora S. La Mance, but then found that someone else had already done a good job of it, and used instead that web site. Here again, like the Seymours, we have another conquering Norman family in the blood line, and another family of Barons, with links to royal families through marriage. Lords de Grene de Boketon is the ancient name, which means Lord of the Park of the Deer Enclosure (the deer preserve), and here is the original shield with three bucks on a blue field:
I don't know if it was a family tradition passed down from generation to generation or not, but Grandpa Greene and my Uncle Daniel (who later changed his name to that of his father Bill) were big deer hunters in upstate New York when I was a little kid in the 1960's and 1970's, and I learned too like the taste of gamey venison at an early age.
The fact that Dan changed his named as a teenager is a family story in itself. Dan, at least physically, takes after the Bowermaster side. Like his Grandfather Dave, he's immense. He was also a track star as a teenager running the 220 (200 meters). I wish I had inherited more of that size and speed, but as you'll see later, I was a bit too small, and a step too slow for the NFL. Anyway, Grandpa Greene was a small, wiry guy. I'd guess about 5'8" and a buck 60. Dan, on the other hand, although slim as a teenager, went 6'3", and even slim, around 200 pounds (now he's about 240). To this day, his respect for Grandpa bordered on fear. The old WWII marine was always there just under the surface, and Bill didn't play around with him, and respected him so much that he legally changed his name to coincide with Grandpa's.
Here we start from the web site, http://www.redbirdacres.net/greenehistory.html but the book, which is really well written, is worth a read: "The Greene Family History England to America: Massachusetts, Rhode Island, western North Carolina and Beyond" "From Alexander Lord de Grene de Boketon of Old Europe to the New World
A BRIEF HISTORY OF THE GREENE FAMILY
The GREENE family was a branch of the de la Zouche family of whom Gibbon, the historian, said that they had the most royal blood and the most strain of royal blood in all Europe. The Greene's at one time were the largest land owners in all England. They were over fifty times descent of Charlemagne (known as 'Charles the Great, King of the Franks and Emperor of the West'), the greatest man of a thousand years.
There were a dozen descents from Alfred the Great and fifty from Wittekind. They had the blood of Irish, Scotch, Saxon, English, and Bohemian Kings; they came from ancient Parthian Emperors long before the time of our Lord Jesus Christ; regular heathens; Russian rulers; French Kings; Constantine the Great; and Basil the Great, the Byzantine Emperor.
Through the Royal Welsh line, they claimed a double infusion of Jewish blood – one line from Aaron, the first High Priest; the other from King David himself. Queen Victoria, of the same blood, firmly believed this. A dozen titular saints, a dozen signers of the Magna Charta, and over thirty crusaders were in this descent.
Alexander, a younger son of the de la Zouche family, was given an estate and title as a "Great Baron" by King John of England in 1202 AD. The estate was that of Grene de Boketon. Walter de Boketon, was in the Seventh Crusade in 1244. Walter's son, John Grene de Boketon, died in the next crusade in 1271 leaving a year old son, Thomas, who became Sir Thomas de Grene (married Alice Bottisham). Then came Sir Thomas de Grene (b: c1288) who married Lady Lucy de la Zouche, his relative.
They remained in the royal line for several hundred years. Saher de Quincey, Earl of Winchester, and one of the Magna Carta Barons, wrested the Great Charter from King John on the field of Runnymede in June of 1215.
Today's name "Greene" was originally written "de Grene", "de Grean" (sometimes transcribed as "atte Gream") or "Grene" and changed again to simply "Greene" and in America changed again to mostly "Green" not in our case, thankfully, like some changed the spelling of Seymour to Seymore for some strange reason, we, on both sides of the family, held to tradition. It appears that the Greene's assumed their name from an allusion to their principal and beloved manor which was Boketon (now Greene's Norton), in the County of Northampton, England. The place was known for the excellence of its soil, its situation, and its spacious and delightful green. From Buckton, they assumed three bucks for their coat of arms. They were Lords of the Manor and owned many stately castles.
In King Edward the III's reign (1327-1377), Sir Henry Greene (1310-1370) obtained for himself and his heirs the grand of a fair to be held yearly for three days beginning on the vigil of St. John the Baptist. Since that time down to the middle of the nineteenth century this fair was held up on the spacious green which gave name to the Greene family.
In the reign of Henry V (1413-1422), Sir Thomas Greene was warden of Whittlebury Forest, an office which he "held in capite of the King by service of lifting up his hand towards the King yearly on Christmas Day in what place so-ever the King is."
Sir Henry de Greene was the Lord Chief Justice of England, and the ancestor of six Sir Thomas' who succeeded one another on the estate of Northampton without interruption. The last one died in 1506 leaving a daughter, Mathilda or Maude Greene, who married Sir Thomas Parr. Katherine Parr, the daughter of this Sir Thomas Parr and Mathilda or Maude Greene, was the sixth and last Queen of Henry VIII (1509-1547). At her death the estate passed to the Crown, but was restored to the Greene's in 1550 by a grant from Edward VI, Jane Seymour's son (1547-1553) who gave it to his uncle, Katherine Parr's brother, Sir Thomas Parr. This Sir Thomas Parr was a Knight of the Garter."
WOW! so here we see more Seymour- Greene connections going back about 500 years. Remember that after Henry VIII died that Thomas Seymour married, and had a child with, Katherine Parr. Let's take a closer look at her now http://en.wikipedia.org/wiki/Catherine_Parr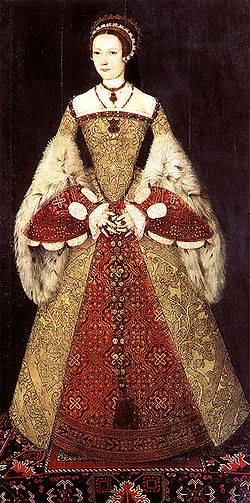 "Catherine Parr (11 November 1512 – 5 September 1548) was the last of the six wives of Henry VIII of England. During her third marriage, she was queen consort of England and Ireland. She was the most-married English queen, as she had four husbands.
Early life–Catherine Parr was born at Kendal Castle in Westmorland, North West England, where her ancestors had resided since the fourteenth century. She was the eldest child of Sir Thomas Parr, of Horton House, Northamptonshire, descendant of King Edward III, and the former Maud Greene (6 April 1495 – 20 August 1529), daughter of Sir Thomas Greene, of Greenes Norton, Northamptonshire. She had a younger brother, William, later 1st Marquess of Northampton, and a sister, Anne, later Countess of Pembroke. Sir Thomas was Sheriff of Northamptonshire, Master of the Wards and Comptroller to King Henry VIII. Her mother, Lady Parr (Maud Greene), was an attendant of Catherine of Aragon (as was also Jane Seymour).
At the age of seventeen in 1529, she became the wife of Edward Borough. For many years it has been argued that she married the elderly Edward Borough, 2nd Baron Borough of Gainsborough who died in 1529. However, it is generally agreed by Catherine's recent biographers that she married the 2nd Baron's grandson, who shared his first name. The younger Edward Borough was in his twenties and may have been in poor health. He served as a feoffee for Thomas Kiddell and as a justice of the peace. His father, Sir Thomas Borough, Anne Boleyn's chamberlain, also secured a joint patent in survivorship with his son for the office of steward of the manor of the soke of Kirton-in-Lindsey. The younger Edward Borough died in the spring of 1533.
In the summer of 1534 she married John Neville, 3rd Baron Latymer, of Snape, North Yorkshire. In 1536, during the Pilgrimage of Grace, Catherine was held hostage by northern rebels, along with her two stepchildren, including John Neville, 4th Baron Latymer. John Neville died in 1543.
It was in the household of Henry's and Catherine of Aragon's daughter, the Lady Mary, that Catherine Parr caught the attention of the King. After the death of Parr's second husband, the rich widow began a relationship with Sir Thomas Seymour, the brother of the late Jane Seymour, but the King took a liking to her and she was obliged to accept his proposal instead.
Queen of England and Ireland—-Catherine married Henry VIII on 12 July 1543 at Hampton Court Palace. She was the first Queen of England also to be Queen of Ireland following Henry's adoption of the title King of Ireland. As Queen, Catherine was partially responsible for reconciling Henry with his daughters from his first two marriages, who would later become Queen Mary I and Queen Elizabeth I. She also developed a good relationship with Henry's son Edward (her boyfriend, Thomas Seymour's nephew), Prince of Wales, later King Edward VI. When she became Queen, her uncle Lord Parr of Horton became her Lord Chamberlain.
For three months, from July to September 1544, Catherine was appointed regent by Henry as he went on his last, unsuccessful, campaign in France. Thanks to her uncle having been appointed as member of her regency council, and to the sympathies of fellow appointed councilors Thomas Cranmer (the Archbishop of Canterbury) and Lord Hertford (Edward Seymour, her future brother-in-law), Catherine obtained effective control and was able to rule as she saw fit. She handled provision, finances and musters for Henry's French campaign, signed five Royal proclamations, and maintained constant contact with her lieutenant in the northern Marches, Lord Shrewsbury, over the complex and unstable situation with Scotland. It is thought that her actions as regent, together with her strength of character and noted dignity, and later religious convictions, greatly influenced her stepdaughter Lady Elizabeth (the future Queen Elizabeth I).
Her religious views were complex, and the issue is clouded by the lack of evidence. Although she must have been brought up as a Catholic, given her birth before the Protestant Reformation, she later became sympathetic to and interested in the "New Faith." It has been hypothesized that she was actually a Protestant by the mid-1540s, as we would now understand the term. We can be sure that she held some strong reformed ideas after Henry's death, when her second book, Lamentacions of a synner (Lamentations of a Sinner), was published in late 1547. The book promoted the Protestant concept of justification by faith alone, something which the Catholic Church deemed to be heresy. It is extremely unlikely that she developed these views in the short time between Henry's death and the publication of the book. Her sympathy with Anne Askew, the Protestant martyr who fiercely opposed the Catholic belief of transubstantiation, also suggests that she was more than merely sympathetic to the new religion.
Regardless of whether she formally converted, which is unlikely, the Queen was reformed enough to be viewed with suspicion by Catholic and anti-Protestant officials such as Stephen Gardiner (the Bishop of Winchester) and Lord Wriothesley (the Lord Chancellor), who tried to turn the king against her in 1546. An arrest warrant was drawn up for her and rumours abounded across Europe that the King was attracted to her close friend, the Duchess of Suffolk. However, she managed to reconcile with the King after vowing that she had only argued about religion with him to take his mind off the suffering caused by his ulcerous leg.
Final marriage, childbirth and death—Following Henry's death on 28 January 1547, he had secured her with an allowance of ₤7,000 per year befitting her station. He further ordered, after his death, though a queen dowager, she be given the respect of a Queen of England, as if he was still alive. Catherine was able to marry her old love, Lord Seymour of Sudeley (as Sir Thomas Seymour had become). As they married within six months of the old king's death, they had to obtain the king's permission (Thomas Seymour's nephew in this case) for the match. When their union became public knowledge, it caused a small scandal. Catherine became pregnant for the first time, by Seymour, at age thirty-five. This pregnancy was a surprise as Catherine had not conceived a child during her first three marriages (however, two of her husbands had been much older than she). During this time, a rivalry developed between Catherine and the Duchess of Somerset, the wife of her husband's brother, Edward Seymour the Duke of Somerset (as Lord Hertford had become), which became particularly acute over the matter of Catherine's jewels. The duchess argued that the jewels belonged to the Queen of England, and that as queen dowager, Catherine was no longer entitled to them. Instead she, as the wife of the protector, should be the one to wear them. She invoked the Act of Succession which clearly stated that Catherine had precedence over all ladies in the realm; in point of fact, as regards precedence, the Duchess of Somerset came after the Ladies Mary and Elizabeth, and Anne of Cleves, styled the King's Sister. Eventually, the duchess won the argument, which left her relationship with Catherine permanently damaged; the relationship between the two Seymour brothers also worsened as a result, since Lord Seymour saw the whole dispute as a personal attack by his brother on his social standing. Catherine's marriage also came under strain. Sex during pregnancy was frowned upon during the sixteenth century and Seymour began to take a possibly unhealthy interest in the Lady Elizabeth (Catherine's teenage step-daughter, and future Queen Elizabeth I), who was living in their household. He had reputedly plotted to marry her before marrying Catherine, and it was reported later that Catherine discovered the two in an embrace. On a few occasions before the situation risked getting completely out of hand, Catherine appears not only to have acquiesced in episodes of sexually charged horseplay, but actually to have assisted her husband. Whatever actually happened, Elizabeth was sent away in May 1548 to stay with Sir Anthony Denny's household at Cheshunt and never saw her beloved stepmother again, although the two corresponded.
The Six Wives of Henry VIII Catherine of Aragon Anne Boleyn, a cousin of Jane Seymour through Margery Wentworth, Sir John's wife Jane Seymour, a half sister of John Seymour of Sawbridgeworth Anne of Cleves Catherine Howard Catherine Parr, daughter of Maud Greene
Catherine gave birth to her only child — a daughter, Mary Seymour, named after her stepdaughter who would go on to become Queen Mary I of England— on 30 August 1548, and died only six days later, on 5 September 1548, at Sudeley Castle in Gloucestershire, from what is thought to be puerperal fever or puerperal sepsis, also called childbed fever. Coincidentally, this was also the illness that killed Henry's third wife, Jane Seymour. It was not uncommon, due to the lack of hygiene around childbirth. It has been suspected that Catherine's husband, Sir Thomas Seymour, may have poisoned her in order to carry out his plan to marry Lady Elizabeth (the future Queen Elizabeth I). As we've seen earlier, Thomas was a real nut. Lord Seymour of Sudeley was beheaded for treason less than a year later, and Mary was taken to live with the Dowager Duchess of Suffolk, a close friend of Catherine. After a year and a half, Mary's property was restored to her by an Act of Parliament, easing the burden of the infant's household on the duchess. The last mention of Mary Seymour on record is on her second birthday, and although stories circulated that she eventually married and had children, most historians believe she died as a child. But how could someone so important just disappear???? The Tudors and the Seymours were in all-out covert war at this time for possession of the throne, and anything could have happened to the poor kid.
Remains—In 1782, a gentleman by the name of John Locust discovered the coffin of Queen Catherine at the ruins of the Sudeley Castle chapel. He opened the coffin and observed that the body, after 234 years, was in a surprisingly good condition. Reportedly the flesh on one of her arms was still white and moist. After taking a few locks of her hair, he closed the coffin and returned it to the grave.
The coffin was opened a few more times in the next ten years and in 1792 some drunken men buried it upside down and in a rough way. When the coffin was officially reopened in 1817, nothing but a skeleton remained. Her remains were then moved to the tomb of Lord Chandos whose family owned the castle at that time. In later years the chapel was rebuilt by Sir John Scott and a proper altar-tomb was erected for Queen Catherine."
Now back to the Greene story-–"Robert Greene, Gentleman of Bowridge Hill, Gillingham, County of Dorset, England, (down in the same neighborhood with the Seymours in SW England) was taxed on the subsidy rolls of Henry VIII in 1547 and those of Queen Elizabeth in 1558. (REF: papers from Mrs. William B. Smith (30) of DeCatur, Georgia, as given in "A Family Genealogy" by William Henry Beck, III).
The family name of Greene is derived, says Somerby, from possessions held in Northamptonshire as early as the times of King Edward I. In 1320 Sir Thomas de Greene, Lord of Broughton (or Boughton), and Norton, later called "Greene's Norton", succeeded to the estate. His son, Sir Henry de Greene, Lord of Greene's Norton, was Lord Chief Justice in 1353. The tomb of the latter which remains perfect, is ornamented with many shields showing different houses with which he was connected, and conspicuous among them is the coat of arms of his own family.
"My first known "Greene" ancestor is Sir Alexander De Boketon, born Alexander de la Zouche, son of Sir Geoffrey de la Zouche. Alexander was a Knight and the 1st Lord of Boketon. He was born Abt. 1181 in County Northampton, England, which was then part of the new 'Holy Roman Empire*', and died Abt. 1236 in Boughton (aka Boketon), County Northampton, England but what is now Greene's Norton, County Northampton, England. His spouse is presumed to be a Lady Isabelle De Cantilupe, daughter of Sir William De Cantilupe. Sir Alexander De Boketon and Lady Isabelle are my 22nd maternal great grandparents. One of their son's was named Walter De Boketon. This Walter De Boketon is said to have been born Abt. 1200 in County of Northampton, England, and died Abt. 1275 probably also in England. To-date, Walter De Boketon's spouse is unknown.
In the year 1202, the english King John (of Plantagenet line ~1199-1216) bestowed the estate of Boketon (now Boughton) on Sir Alexander De Boketon, a knight in his court. The following year (1203), "Alexander de Boketon recovered the advowson of the Church of St. John the Baptist at Boketon (a seigniorial right of the Lords of Boketon) against Simon de Hecter and Simon de Boketon.
In 1202, there were only two titles of nobility: earls and knights. The knights were subdivided into greater and lesser barons. The great barons held their estates from the crown. The lesser barons held their estates as a subdivision from an overlord or great baron. Lord Alexander was a great and wealthy baron, and one of the largest land owners in all of England. He had power over his estate like a petty king. In exchange for the power granted from the king, he had to furnish many men for the king's wars, pay a portion toward the dowry of the princesses, and entertain the king when the king was in his territory. In addition, he had to pay homage to the crown. The Lords de Grene paid homage from 1202 to 1506 "by lifting up his right hand toward the king yearly on Christmas Day, in what place soever the king is." (Halstead's Genealogy, 1585). A household account by the steward of Lord Alexander exists that states that his master's household consisted of 166 persons, including the forbisher who kept the armor bright, the fencing master, harper, priest, bedesman or praying man, the almoner who looked after the poor, and the barner who kept the 24-hour fires in the castle in order. Lord Alexander kept an open table, and fed an average of 57 visitors a day. The knights sat with the Lord at one end of the table, and were served the choicest foods. The retainers and commoners sat "below the salt" and ate coarser victuals, or as we say now, "humble pie."
The Lords de Grene lived in state. They wore rich apparel, belted with a gold or silver girdle to which was attached a purse, rosary, pen, ink horn, set of keys, and an elaborately chased and sheathed dagger. These accoutrements showed their rank. When they rode, they always wore gold spurs, and their armor was brightly polished and magnificent. They wore robes in Parliament, hats and plumes at court and at the king's coronation, and a crimson velvet cap lined with ermine and having a plain gold band. Their servants wore the Greene livery, which was blue laced with gold.
Although they lived in a period of early marriages, the Greene preferred to marry late in life. Nonetheless, they managed to have large families, often more boys than girls. The de Grenes had many purely family superstitions. One of them was their dislike of having a picture made of themselves. Even as late as 1850, some of them would not permit a picture of them to be made.
Boughton (fka Boketon) lies a few miles north of the town of Northampton. It was known as an estate before the Norman Conquest (1066). It contained 1,400 acres of good soil. Boughton Manor remained in the Greene family until about 1700, when it was purchased by Thomas Wentworth (most likely the same family as Sir John Seymour's wife, Margery Wentworth), third Lord Stafford. It later passed through other hands. In 1822, it was mostly leveled to the ground and a large new house took its place. To this day, the town of Boughton retains the appearance of an ancient town. A walk through the village revealed that the houses had been carefully modernized so as to not detract from the outward medieval appearance of the buildings. In the rural cemetery was found the ruins of an ancient church, a part of the ivy-covered walls still standing. This may be the location of the original parish church at Boughton, dedicated to St. John the Baptist. It stood on the green near a famous spring. As early as the time of Henry VIII, it had begun to fall into decay. By 1785, nothing remained but ruins. There seems to be no description of the interior extant. It contained the tombs of some of the early members of the Greene family.
Baker, in his History and Antiquities of Northamptonshire presented an account of two of the Greene monuments. One of these bore the arms of Greene and those of allied families of Zouche, Drayton, and Marblethorpe. The other had "a portraiture of a man in a short gowne yt should shew hym a lawyer, having also a s'geant's coyfe. His wyfe also lies in portraiture by him."
On this tomb, at the head, were sculptured the arms of Greene; on the south side they were repeated, and near them the Zouch device; on the north, Greene between Zouch impaling Greene, and Reynes impaling Greene, showing marriages with the daughters of Greene, who were probably here interred. At the foot of the tomb was a shield bearing a fess between six crosses patee, the arms of a family not named by Baker, who remarks that this monument had been erroneously assigned to the Greene who married a Marblethorpe; "but, as the Lord Chief Justice was the only one of the family who attained to legal eminence, and his daughter having married Zouch and Reyes, it may with confidence be applied to him."
MY NOTE (the compiler's, not mine): The 'Holy Roman Empire', in general usage, the designation applied to an amorphour political entity of western Europe, originated by Pope Leo III in 800 A.D., and in nominal existence more or less continuously until 1806. For purposes of historical accuracy, it should be noted that, in its initial stages, the organization was styled 'Empire of the West' and 'Roman Empire'; and that the epithet "Holy" did not appear in the official title until 1155.
Just an interesting bit of history, apparently our ALEXANDER DE LA ZOUCHE, Lord De Boketon b:c1181 was born under the 'Hohenstaufen Dynasty' with first emperor Frederick I reigning at his birth (c1152-1190, crowned 1155), then emperor Henry VI (1190-1197, crowned 1191). After much research and study I've learned that Alexander's great grandfather immigrated to the British Isles (England) during the Norman invasion of 1066 under William The Conquerer. Alexander was of Norman descent also. SOURCE: Universal Standard Encylclopedia, Vol. 12, Pgs. 4370-4373
Sir Walter de Boketon, Knight and 2nd Lord of Boketon, is one of probably many sons and daughters of Sir Alexander de Boketon and Lady Isabelle De Cantilupe. He was born ABT. 1202 in what is now Boughton (fka Boketon), County Northampton (central England), England and died ABT. 1275 in Boughton, County Northampton, England. Sir Walter is presumed to be buried in the family cemetery of St. John the Baptist Cemetery, Greenes Norton, County Northampshire, England, along with many other family members. Sir Walter's wife is currently unknown. He did have at least one brother named Alexander de Boketon who was born Abt. 1235. Whether this Alexander lived to marry and if there are any descendants is currently unknown by me. This Alexander might have also assumed another surname via a title bestowed on him.
Sir Walter de Boketon was probably in the Sixth Crusade. He is listed in the old roles of the 20th and 45th years of Henry III (1235 and 1260), and the second year of Edward I (1274). He did serve during the Seventh Crusade during the oppression of the Catholic Church. The second baron of the line, as listed in old rolls of the twentieth year of Henry III (1236) and the forty-fifth year of the same king (1261) was Sir Walter de Boketon, son of Lord Alexander de Boketon, who was a Crusader in the seventh Crusade. He is again listed in the roll of the seventh year of Edward II (1214), and the name of his son, John de Grene de Boketon, is given at the same time.
My descendancy continues through Walter's known son Sir John Grene De Boketon, Knight and 3rd Lord of Boketon, who was born Abt. 1232 in Boughton, County of Northampton, England, and died in 1271 during the Eighth Crusade in Palestine. This Sir John Grene De Boketon was the first of my ancestor's to use the name "Grene de Boketon". Grene is the original spelling and continued to be so well into the late 1500's. Almost all documents seen thus far the name is spelled "Grene". When Prince Edward set forth on the last crusade of the 'Holy War' in 1270, Sir John Grene de Boketon was of the rank, position, and age that entitled him to accompany the prince into battle. During this crusade, the prince and Sir John became close friends until Sir John died in Palestine, leaving an infant son, Thomas, in England. When Prince Edward became King Edward I in 1272, he bestowed the title of Lord on the infant child, Thomas, in honor of the gallant service and friendship of Sir John.
Following the death of Lord Walter de Grene, the properties Sr John Grene de Boketon would have inherited were held in trust by William de Nutricilla, Abbot of St. Wondergisile until Thomas reached legal age.
Sir John Grene de Boketon, is recorded in the seventh year of Edward I (1274) and as late as the seventh year of Edward II (1313). These notations do not necessarily mean he was alive then, since according to English law, the properties held in trust were carried in the rolls in the name of the father even though he be deceased. This John's wife is unknown at this time. This Sir John Grene de Boketon left an infant son, Sir Thomas Grene De Boketon and a wife. Sir John Grene De Boketon and his wife are my maternal 20th great grandparents.
Sir Thomas de Grene was the son of Sir John Grene de Boketon and unknown wife. He was the first to drop the "de Boketon" and was the 4th Lord of Boketon, born Abt. 1260 in Boughton, County of Northampton, England. Sir Thomas married Lady Alice Bottisham born Abt. 1264 in Braunston, County Northampton, England, daughter of Thomas Bottisham. Following the death of Lord Walter de Grene, the properties Sir John de Grene would have inherited were held in trust by William de Nutricilla, Abbot of St. Wondergisile until Thomas reached legal age. "Halstead's Genealogies" notes that Sir Thomas appears in an ancient catalogue of knights who accompanied King Edward I in the first expedition against the Scots in 1294. He was living in 1319 according to the role of the 13th year of Edward II.
We know of at least one child of this couple: Thomas de Grene b:c1288. I believe they have at least one or more sons according to the 1334 Tax Lists (aka Subsidy Roll) that I found at the Kent Archaeology web site. There is a Geoffrey de Grean, a Nicholas de Grean and also a Roger de Grene. Roger de Grene was deceased by 1334 because "Roger's widow" paid taxes for their estate in Aylesford for the tax year of 1334. These gentleman and other young ladies may have been Sir Thomas' children or brothers and sisters.
Sir Thomas De Grene and Lady Alice Bottisham are my 19th maternal great grandparents.
Their son, Sir Thomas de Grene, Knight and 5th Lord of Broughton, was born Abt. 1288 in Boughton, County Northampton, England and died Abt. 1352. He married a cousin, Lady Lucy De La Zouche, on October 23, 1297 County Northamptonshire, England. She was born Abt. 1279 in Harringworth, County Northamptonshire, England, daughter of Lord Eudo La Zouche and Lady Millicent De Cantilupe. She and her parents were also of Royal descent.
1330 to 1332 Sir Thomas was High Sheriff of Northampton. In 1334 he was listed in the "Men of the Liberty of the Cinque Ports" (given tax exempt status by the Crown). 1334 he was also counted in the Lathe of Eyllesford (Aylesford), Hundred of Hoo. 1336 to 1343 Sir Thomas was a Member of Parliament at Northamptonshire, England.
Sir Henry de Grene, Knight and 6th Lord of Boketon, born 1310, died 1370 in Greene's Norton, County Northampshire, England. In 1335 Boughton, County Dorset, England, Henry married Lady Katherine De Drayton, d/o Sir John De Drayton and Lady Phillippa D' Arderne. She was born 1314 in Broughton, County Dorset, England; died 1369 in Greene's Norton, County Northampshire, England. Both are buried in the family cemetery in St. John the Baptist Cemetery, Greenes Norton, County Northampshire, England.
Sir Henry De Grene was Chief Justice of England (Bet. May 24, 1361 - October 28, 1365), Speaker of the House of Lords in two Parliaments (1363-1364). Abt. 1340 he received from Thomas de Boketon and his wife Joanna the manors of Brampton and Boketon. In 1359 he purchased Norton Davey for 20 shillings and gave it the name of "Greene's Norton".
Sir Henry and Lady Katherine had at least five known children: Agnes Margaret de Grene (m. William La Zouche); Lord Thomas de Grene (m. Lady Margery Isabella Marblethorne); Henry de Grene (m. Matilda De Mauduit); Amabilia de Grene (she m. 1st Ralph Reynes; 2nd John Chetwoode); and Sir Walter de Grene (b:c1360, m. unknown).
My direct decendency continues through son Sir Henry de Grene, Lord of Drayton born 1352, died September 02, 1399 all in Greene's Norton, County Northampshire, England. In Abt. 1368 in the County Wiltshire (home of Wulfhall), England, Sir Henry married Lady Matilda De Mauduit, d/o Sir Thomas De Mauduit and Lady Joan Bassingbourne. Matilda was born Abt. 1354 in Westminster, County Wiltshire, England. They are both supposedly buried in the family cemetery St. John the Baptist Cemetery.
Sir Henry and Lady Matilda were known to have at least seven children, one of which was my Sir Thomas De Grene, Lord of Isham, born 1373. Other known children are: Ralph "Lord of Greene's Norton" b:c1369 (m. Catherine Malorie); John b:c1371 (m. Alice de Plumpton); Henry b:c1375 (m. Margaret de Grey, a widow of John Wittilbury); Eleanor b:c1377 (m. John Fitzwilliam, "Lord of Sprotbrough"); Elizabeth b:c1379 (m. Thomas Cotton); and Mary de Grene b:c1381 (m. Geoffrey or Jeffrey Luttrell of Hooton Pagnel, County Yorkshire).
Sir Thomas de Grene, Knight and Lord of Isham, was born 1373 in Greene's Norton, County Northampshire, England, and died December 14, 1417 in Greene's Norton, County Northampshire, England. He married Ela (Mallory) Malorie Abt. 1405 probably in Gillingham, County Dorset. Her father was Ankatil Malorie. Her full name could have been "Eleanor". To-date I only know of their one son John de Grene.
Sir John Grene, Knight and Lord of Drayton, was born Abt. 1408 in Greene's Norton, County Northampshire, England, and died 1486 in Drayton near Gillingham, County Dorset, ENGLAND. Sir John also married a "Gillingham Greene" cousin Mary Margaret Grene born Abt. 1408 in Bridgenorth, County Shropshire, England. She was the daughter of Sir Walter De Grene and 2nd wife Lady Elizabeth Warner. (Note: Sir Walter was the son of Sir Walter b:c1360, and grandson of above Sir Henry de Grene and wife Lady Katherine de Drayton.) This is when my line of the family started living mostly in Gillingham, County Dorset, England. Sir Walter and 2nd wife Lady Elizabeth also had at least one son Walter who was born Abt. 1403 in Bridgenorth, County Shropshire, England. The date of his death is unknown to me. There may have been other children by Sir Walter and Lady Elizabeth. Sir Walter and 1st wife Miss unknown de Sancto Ivone (b:1370-d:1400, d/o Adam de Sancto Ivone) are said to be buried at the Hayes Church, County Shropshire, England. Lady Elizabeth is buried at the Abbey Church, County Bermondsey, England.
Sir John is buried at the family church Saint Mary the Virgin Parish Church Cemetery, Gillingham, County Dorset, England. Lady Mary Margaret, wife of Sir John, is buried Monken Hadley Chapel, London, County Middlesex, England.
About Dorset County in England: "Dorset, maritime County, on south coast of England; is bounded north by Somerset and Wilts, east by Hants, south by the English Channel, and west by Devon; length, east and west, 52 miles; breadth, north and south, 37 miles; coastline, 75 miles; area, 627,265 acres; population 191,028. The main features of the coast are Poole Harbour, St Alban's Head, and the singular projection called the Isle of Portland. The principal streams are the Stour and the Frome. Great part of the county is traversed by the two ranges of chalk hills called the North and South Downs, and the soil consists mainly of chalk, gravel, and sand, but is very fertile in the valleys. Wheat and barley are grown in the west and north. Immense flocks of sheep are pastured on the Downs. Dairy farms are generally large, and dairy husbandry is carried to a very high point of perfection. The only mineral of any importance is Portland stone, quarried in the Isle of Portland. There are manufactures, to some extent, of sailcloth, sacking, nets, paper, silk, &c., with malting and brewing, and iron-founding. The fisheries, especially of mackerel, are considerable, and ships and yachts are built at Poole." [Bartholemew's Gazetteer of the British Isles, 1887]
This map and the above excellent description is courtesy of the web site "UK & Ireland Genealogy". They explain each county with a map. Very nicely done and quite helpful!
Sir Robert Grene, Knight, Gentleman and Lord of Bowridge Hall, was born Bet. 1421 - 1442 in Bowridge Hall, Gillingham, County Dorset, England, and probably died there. His spouse is currently unknown but someone said her first name might be Elizabeth. Sir Robert Greene and wife are my maternal 13th great grandparents.
Sir Robert Grene, son of above Sir Robert Grene and unknown wife, was born Abt. 1500 in Bowridge Hall, Gillingham, County Dorset, and also probably died there Abt. 1558. His wife was Elizabeth Worgg. She was born Abt. 1503 in Gillingham. Her parents are currently unknown. Both are presumed to be buried in that family cemetery of Saint Mary the Virgin Parish Church Cemetery, Gillingham, County Dorset, England. This couple had at least 5 children: Peter b:c1526 (m. Joan); Richard "of Stanfford Ryvera" b:c1527 (my ancestor, m. Joan Converse); Alice b:c1531 (m. Mr. Small); Annie b:c1533 (m. Roger Capps); and John b:c1534 d:c1562 (bur. Saint Mary the Virgin).
Richard "of Stanfford Ryvera" Grene was born Abt. 1527, and died May 03, 1608 all in Bowridge Hall, Gillingham, County Dorset, England. In 1550 Richard married Joan Converse, d/o William*, in East Bridford, County Nottingham, England. Joan was born Abt. 1534 in County Essex, England, and died Bet. 1574-1606. Richard and Joan are buried in the family cemetery of Saint Mary the Virgin Parish Church Cemetery. This couple had at least 8 children: Richard "Lord of Bowridge Hall" b:c1550 (my ancestor, m. Mary Hooker); Robert b:c1552; Peter "of Surry" b:c1558; Katherine b:c1560 (m. Mr. Turner); Agnes b:c1561; John "of Bridgeford" b:c1570; and Mary b:c1574.
In 1545, this Sir Richard Grene appears in the Rolls of the Exchequer.
This Richard GRENE and Joan CONVERSE are my maternal 11th great grandparents.
*I found a transcription of William Convers' (no "E" in his surname) 1555 Will on-line! It names his married "daughter Joan Grene" and also names "Rycharde Grene" as "Overseer" of his Will and goods. Converse Genealogy
Sir Richard Greene, Knight and Lord of Bowridge Hall, is sometimes called "Richard Greene, The Younger (Junior).", is the next in my line. Sir Richard was born 1550 and died August 22, 1660 all in Bowridge Hall. He was a member of Parliament from Exeter. He married Mary Hooker, daughter of John Hooker and Alice Powell, in 1587 Salisbury, County Wiltshire, England. She was born August 16, 1567 in Salisbury, County Wiltshire, England, and died sometime Aft. 1617 probably in Bowridge Hall, Gillingham, County Dorset. Both are buried in the family cemetery of Saint Mary the Virgin Parish Church Cemetery.
This couple had at least eleven children: Peterb:c1585 (m. Joan); Richard b:c1585 (m. Agnes); Robert b:c1587; Rebecca b:c1592 (m. Mr. Downton); Mary b:c1594; Robert(?) b:c1595; Anne b:August 1595 (1st m. Giles Stagg, 2nd m. John Peche); Rachel b:c1596 (m. Richard Perne); John "the Surgeon" (my ancestor); Thomas b: May 18, 1599 d: August 15, 1599; and an unknown daughter born 1600.
John Greene (Feb 09, 1597-Jan 07, 1659) and Joanne Tattershall are my maternal 9th great grandparents. My direct lineage is then via his first son John GREENE "of Warwick" who was born August 15, 1620 in Salisbury, County Wiltshire, England, and died November 27, 1708 in Kingstown, Providence (nka Kent) County, Rhode Island USA, and his wife Ann (or Agnes, Annis) ALMY, d/o William Lynn ALMY and Audrey BARLOWE."
Many Greene's immigrated to America, and I've been unable to trace my mother, Sandra Greene's genealogy, but possibly it also traces through John, and therefore the information both above, and below are relevant. Maybe not, but like the name Seymour, All Greene's most likely trace back to the same source in Northampton, so it's relevant in that regard.
John Greene (1597-1659), aka John "the Surgeon" Greene was the first of my Green ancestors to come to America. He was the fourth son of Richard and Mary Hooker Greene of Bowridge Hill, Gillingham, County Dorset, England. John Greene was born September 9, 1597 in Bowridge Hill, Gillingham, County Dorset, England; died in January of 1659 in Warwick, Providence (nka Kent) County, Rhode Island, in the America's; married first in November 04, 1619 at St. Thomas Church, Salisbury, County Wiltshire, England, to Joanne Tattershall, daughter of Richard Tattershall and wife Margaret Fox. John Greene (1597-1659) was the Surgeon of Salisbury, County Wilkes, England. One page 234 of "A Family Genealogy" by William Henry Beck, III, is the following account of JOHN GREENE (1590-1659):
"JOHN GREENE (1597-1659), the pioneer in this country, with his wife and children, sailed from Southampton (England) on April 16, 1635, on the ship JAMES and landed in Boston, Massachusetts on June 3, 1635. They settled in Salem but were driven out by religious persecutions, and soon after went to Providence (Rhode Island). Here he was one of the twelve to who Roger Williams conveyed land in his 'initial deed', thusly called because the men are mentioned only by their initials, and one of the twelve original members of the first Baptist Church in Providence. He was of the party who with Samuel Gorton purchased Shawomet, later called Warwick (Rhode Island), from the Indians. His is the only name of a white man signed as a witness to the deed. His own plot, called Occupassnatuxet, more commonly known as Pastuxet, remained in the family until 1782, when it was bought by Governor John Francis, whose heirs are still in possession.
In August 1637, he was accused of having spoken contemptuously against magistrates and stood 'bound in a 100 marks to appear at the next Quarter Court', by order of the Massachusetts authorities.
In September following, for the same offense, he was fined $20.00 and was to be committed until the fine was paid, and enjoined not to come into the jurisdiction of Massachusetts upon pain of fine or imprisonment at the pleasure of the Court. A few months later the same court of Massachusetts received a letter from Greene with which he charged the court with usurping the power of Christ over churches and men's consciences. The court again ordered him not to come into their jurisdiction under pain of imprisonment and further censure.
In 1643 came the summons to the Warwick men to appear in Boston to answer to the complaints of Pomham and Soconoco, 'as to some unjust and injurious dealing toward them by yourself'. Then soldiers were sent to bring them by force to Boston, after the accused refused to go, declaring they were legal subjects of the King of England, and beyond the limits of Massachusetts authority. On their arrival, there was a parley during which the officers declared that the Warwick settlers 'held blasphemous errors of which they must repent' or go to Boston for trial. Greene escaped capture but was banished like the rest.
Apparently Mrs. Joanne "Joan" Tattershall Greene did not die at sea in 1635 as has been recorded by others. Joan sought refuge with the Indians in the area called Occupassnatuxet (aka Pastuxet, now Warwick), Rhode Island, from the Massachusetts authorities in 1643. The event was so trying that she died there from shock.
After Joanne's death in 1643, John Greene returned to England and remarried twice. First to Alice Daniels of Gillingham on May 08, 1644 Gillingham, County Dorset, England, who died soon after marriage. Then to Phillippa "Phillis" Arnold of London on October 20, 1645 in London, County Middlesex. Three years later, however, when he, 3rd wife Phillippa, and Samuel Gorton returned from England, he had the satisfaction of landing in Boston, justified by the King of England.
Like others of this company of Shawomet settlers, Greene held responsible positions under the charter and was magistrate, assistant member of the town council, representative in the assembly, and commissioner from 1654 to 1657.
John Greene died in Warwick, Rhode Island in January of 1659."
My next ancestor is James Greene "of Potowomut" (1626-1698), son of John and Joanne Tattershall Greene. He married Elizabeth Anthony, daughter of Joseph Anthony and wife Susanna Potter. James Greene and Elizabeth Anthony Greene are my biological maternal 8th great grandparents.
A SPECIAL NOTE: There were two JOHN GREENE's who immigrated to Rhode Island at the same time in the 1600's. One is known as John Greene "of Quidnessett". He was born Abt. 1606 in Gillingham, County Dorset, England, and is known to be the son of Robert Greene (b: 1580, who was the s/o Henry Greene) and unknown wife. John "of Quidnessett" married Mrs. Joan "Jane" Beggerly, a widow. The other is known as John Greene "of Warwick" who married Ann Almay or Almy. This John "of Warwick" is the brother of my James Greene "of Potowomut" mentioned here. John "of Quidnessett" and John "of Warwick" were 2nd cousins.
James Greene "of Potowomut", was baptized at St. Thomas' Church, Salisbury, England, June 21, 1626, and came with his parents to New England in 1635. He was made freeman of Warwick and Providence Plantations in 1647. He resided at Old Warwick on the main street on the southerly side, where the graveyard is now located in which he and some of his family are buried. He was on the 'Roule of ye Freemen of ye Colonie of everie Town' in 1665 and was Town Clerk, May 16, 1661. He was 'an excellent penman of the old English text.' He was a member of the General Assembly of the Colony, being Commissioner under the first charter, and Deputy and Assistant under the second (1663), for ten years, between 1660 and 1675. He was considered 'a man of much practical sagacity.' He does not appear to have been in public life after the Indian war (1675-1676), when his house, with all others in Warwick, except the "Stone Castle," was burned to the ground. When the message from the General Assembly advising the people of Warwick of danger was received, he fled to Portsmouth, Rhode Island, where the father of his second wife, John Anthony, resided. He remained for some years at "Hunting Swamp," but in 1684, having made purchases of Warwick land (6) (Warwick Records. 1664, 1st Book of Marriages. Warwick Records, Land Ev., p. 12: "15 Oct. 1682 Thomas Stafford of Warwick sells to James Greene of Hunting Swamp Portsmouth for 5f all his lands in Warwick, purchased by the inhabitants of Warwick which deed stands recorded in Warwick.'') he removed to Potowomut where was an ancient mill, and built his house on the hill near the west bank of the river, overlooking the beautiful lake which furnished the water power for the forge which his grandsons (sons of Jabez) established for making anchors and other forms of ironwork. This became a notable industry in colonial times and in the early days of there public. The interests of the forge" were enhanced by the revival of business after peace existed between England and her emancipated colonies, and this became the pioneer of the more extensive works on Pawtuxet River, near the western border of Warwick, known as 'the Forge.'" The place at Potowomut where James Greene resided until his death, was the birthplace of his great-grandson, the highly distinguished Major General Nathaniel Greene of the Revolutionary Army, and the residence of his descendants for more than two hundred years. He died "at his mansion in Potowomut," April 27, 1698, in the seventy-second year of his age, and was buried at the Old Warwick burial-ground, under an altar-tomb with the inscription still in a good state of preservation, on his original house lot of six acres granted by the proprietors of Warwick, 1647, when he had attained his majority. This lot was located on the main street, the second lot north easterly from the road leading to Warwick Neck. The burial-ground and lot descended to his eldest son, James, whose descendants have been buried there to the present generation.
The estate in Old Warwick has within a few years been sold out of the Greene family, but they still retain ownership of this ancient and historic burying-ground located near the site of the "Stone Castle." In recent years much has been done to preserve the history of the family records, memorial stones having been erected by Rufus W. Greene and Benjamin Greene Arnold, containing records of the Greene ancestors dating back to John Greene of Salisbury, England. And thus they will passed on to coming generations, who will gratefully appreciate the fore thought which has preserved them, and the resting place of their ancestors.
"He who steps out into the night finds at first that all is gross darkness, but as he gropes his way, dim landmarks begin to shape themselves out of the darkness. The faint rays of light grow plainer, and the traveler at last walks in a path that has familiar objects to the right and the left, to show him how far he has come, and in what direction he is going. So in this history the beginning of the Greene family is shrouded in the midnight of the unchronicled story of centuries ago. A date or two comes down to us. The hazy figure of Lord Alexander rises like a ghost from his seven centuries of dust. There 'is a certain branching and widening out of the family. Not until the fourth lord of the line comes a record and history.
Alexander, a Knight at the king's court, was the great-grandson of one of the Norman nobles who invaded England with William the Conqueror, 1066. King John bestowed the estate of Boughton in Northampton upon him in 1202." Northampton is a few miles northwest of London. Receiving a gift from King John doesn't necessarily reflect well on us, since John was probably the worst King in English history, but later we see that Alex made amends by backing the Magna Charta against King John.
"At that date there were but two titles of nobility, earls and knights. The knights were subdivided into greater and lesser barons. The great barons held their estates from the crown. The lesser barons were like the present baronet, and held their manors from an over-lord or great baron. Lord Alexander Greene was a great baron.
Halstead says that at one time the Greenes were the largest land-owners in the kingdom. It was somewhat difficult to keep the exact boundaries of the great lords' possessions. They got around this problem after a unique fashion of the Middle Ages. On Holy Thursday or Ascension Day, they each year "beat the bounds." All the men on the Lord's estate turned out. His Lordship with his suite, rode about his estate, following the received boundary lines all the way, a crowd of boys at his heels beating brush, trees and stones as they passed along. They stopped, at convenient points, by landmark trees or other objects, a boy was "sharply whipped with peeled willow wands," so that he would always remember being flogged at this part of his lord's boundary mark. As the urchins received a liberal reward for their stripes, they never lacked for volunteers. The Lords de Greene must have punished a small army of boys in this way, for the fifth lord, Sir Henry, Chief Justice of England, settled upon his second son, after providing for the regular heir, over thirty manors, each of which would today support a baronetcy.
For five generations the de Greenes spoke Norman French. They were a family that delighted in athletic sports. They hunted and hawked, and attended tournaments, and played games of tennis, cricket, bowls, etc. All of them in their generations were noted for their fine bowling alleys, two or three of which were the finest in England. Charles I used to go to Lord Vaux's at Harrowden, or to Lord Spencer's at Althorpe to play bowls at their famous alleys, which were once the Greenes'. Here Cornet Joyce arrested him and carried him off to Whitehall and a violent death. This was in about 1649. Charles was in power when our ancestors left England for America, as he was creating a lot of problems around religion, and there were two civil wars fought in England during his reign. Each winter they had miracle shows and religious plays, held in their barns and roofed alleys. The actors were always men, as "became decent behavior." These early Greenes were also much given to hours of riddle making and conundrum guessing.
Lord Alexander's son, the second Lord, was probably a crusading knight in the seventh Crusade, which ended in 1240. His grandson was almost undoubtedly one of the knights that accompanied Edward I on the last great Crusade, and died in the Holy War. Nothing more is known of this period of family history, except that Lord Alexander had other sons and grandsons who became heads of lines of their own. We know this by the evidence of their coats-of-arms.
The second baron of the line, as listed in old rolls of 20th year of Henry III, (1236) and 45th year of same king, (1261) was Sir Walter de Boketon. The same properties or affairs listed again in a roll of the 7th year of Edward II, ( 1 314) repeat the name of Sir Walter, and also give name of John de Boketon, whom we may consider the next heir. As the fourth lord was certainly Sir Thomas, who received the title in his infancy, at the beginning of the reign of Edward I, (1272) this (Sir) John de Boket on was doubtless the young crusading Knight who perished in Palestine in 1271.
Ambitious family antiquarians are always proud if they can claim a royal descent. The Greenes find no trouble in presenting their royal tree, as their lineal line to the Capet Kings of France is complete without a break or an uncertain ancestor. We have followed Halstead's Genealogy, Browning's Americans of Royal Descent, and Rev. S. Beal's, D.C. L. Account of Green's Norton, together with the known genealogy of the Capetian Kings of France, all of which agree with each other. Halstead's Genealogy stands at the head of English works of this kind. It was written in 15S5 by the second Earl of Peterborough, himself of the blood of Greene. He assumed the pen name of Robert Halstead, and hence his work is always spoken of as Halstead's Genealogy, although his true name is well known.
Both Sir Thomas, who married Lady Lucie, and their son, Sir Henry, the Lord Chief Justice, received high honors from the hand of King Edward III, one of the best and strongest kings England ever had, and whose long reign of 50 years allowed him to bring about many reforms. He was a warrior and statesman, with a lawyer-like bent of mind. More important laws were passed in his reign than in 300 years before. He created Justices of the Peace; made the rank of a duke; established the Order of the Garter; divided Parliament into the House of Commons and the House of Lords, and had its powers first clearly defined. He ordered the use of the English language in Court and Parliament instead of French. An energetic, change-working king such as he, had particular need of a counselor of trained judicial qualities. He found such a trusted adviser in Sir Henry de Greene, the foremost lawyer of his day. Sir Henry's rank would not allow him to plead before the bar, but he put all his mental acumen and legal knowledge at his royal master's command. The King was deeply attached to him. Little did either of them think that in a day to come the King's grandson would cut off the head of his counselor's favorite son."
There's all the information that I have on my mother's lineage. Like with the Seymours, the Greene's were a founding family of both modern day England and then of America. They had large families, and from 1635 out through 1800, like the Seymours moved from Rhode Island westward to upstate New York where there was more land and less people. However, up to now, I haven't been able to follow that migration from one of the original Johns to Great Grandma Pearl Greene.
The most successful general in the Revolutionary War, after George Washington, was General Nathanael Greene. http://en.wikipedia.org/wiki/Nathanael_Greene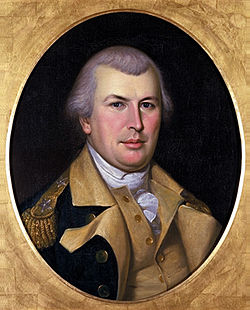 Of course, we're related, but I have no idea how directly, or distantly. He was a great general, and here's one of his most famous quotes, which I find myself currently living by: "I am determined to defend my rights and maintain my freedom or sell my life in the attempt." Ironically in 2011, we find ourselves fighting against the US government to defend our rights and maintain the freedom that our ancestors wrestled away from the tyranny of England so long before.
He was born in Warwick, Rhode Island, and is descended from one of the two John Greene cousins that founded the area. He primarily fought in the south during the war, and there are at least 36 counties and cities named for him, including Greene County, NY where William Seymour Jr.'s wife Dorothy Lord was born, herself the daughter of Mary Greene. There are innumerable streets and other places named for him.
Almost unbelievably, after settling near Savannah Georgia after the war, he died at 42 of sunstroke. There's a large grave site for him in Johnson Square in Savannah, Georgia. It seems like Greene Square, named for him and also in Savannah would have been a more logical choice, but…. There are many monuments to old Nate around the country, but this one is near his grave site in Savannah, which I believe was also the park featured in my favorite movie of all time "Forrest Gump". I fell in love with the movie long before I knew that the monument in the background was dedicated to a truly great and honorable relative of ours: